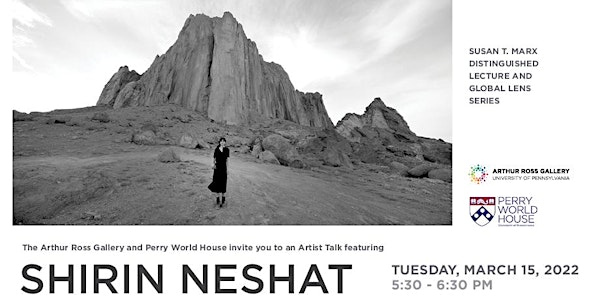 Artist Talk: Shirin Neshat
Join Perry World House and the Arthur Ross Gallery for a talk from Iranian-born filmmaker and artist Shirin Neshat.
When and where
Location
Perry World House 3803 Locust Walk Philadelphia, PA 19104
About this event
Neshat works in photography, film, and video. In this artist talk - part of the Susan T. Marx Distinguished Lecture Series and Perry World House's Global Lens cultural programming - she will provide a general introduction to her work in multiple media, with a focus on issues of race, gender, religion, and power. Neshat will also discuss her most recent film, Land of Dreams, which was completed in the summer of 2021 and premiered at the Venice Film Festival.
Three of Neshat's works are featured in the Penn Art Collection. Two archival pigment prints, Sayed and Ghada (2013), were taken by Neshat in Egypt immediately following the Arab Spring, and are a gift to the University from the Robert Rauschenberg Foundation. The third piece, Ava (Masses) (2012) is an ink on silver gelatin photograph from her series The Book of Kings, which is on view at Perry World House and is a generous gift of Richard and Lisa Perry.
SPEAKER
Shirin Neshat is an Iranian-born artist and filmmaker living in New York. Neshat works and continues to experiment with the mediums of photography, video and film, which she imbues with highly poetic and politically charged images and narratives that question issues of power, religion, race, gender and the relationship between the past and present, occident and orient, individual and collective through the lens of her personal experiences as an Iranian woman living in exile. Neshat has held numerous solo exhibitions at museums internationally including the Pinakothek der Moderne, Munich, Modern Art Museum of Fort Worth, The Broad, Los Angeles, Museo Correr, Venice, Italy, Hirshhorn Museum, and the Detroit Institute of Arts.
Neshat has directed three feature-length films, Women Without Men (2009), which received the Silver Lion Award for Best Director at the 66th Venice International Film Festival; Looking For Oum Kulthum (2017); and most recently Land of Dreams, which premiered at the Venice Film Festival (2021). Neshat has been awarded the Golden Lion Award, the First International Prize at the 48th Biennale di Venezia (1999), and the Praemium Imperiale Award for Painting (2017.) She is represented by Gladstone Gallery in New York and Goodman Gallery in London.
COVID-19 GUIDELINES
Perry World House is following the University of Pennsylvania's COVID-19 guidelines. In-person access to our hybrid events is now open to the public as well as the Penn community.
All in-person attendees will be REQUIRED to wear a mask and MUST either show their Green PennOpen Pass (University of Pennsylvania faculty, students, postdocs, and staff or badged contractors) OR Green PennOpen Campus (all other visitors including event attendees) in order to take part in-person.
You must complete your PennOpen Campus screening on your cell phone or computer BEFORE arriving at Perry World House. Click here for more information about PennOpen Campus and how it works.
We will continue to provide virtual access to all of our hybrid programming. Zoom details will be found in your order confirmation email.