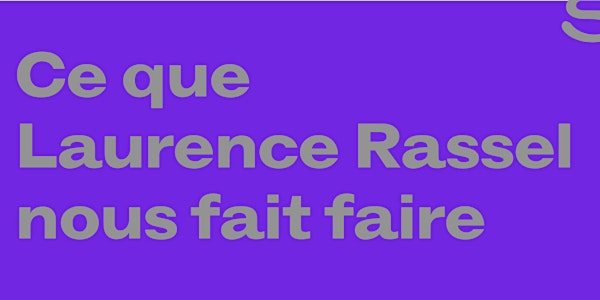 Artist Talk: Laurence Rassel
Laurence Rassel is a cultural worker who can act as curator, teacher, organizer. Currently she is Director of ERG.
When and where
Location
Frans Masereel Centrum Masereeldijk 5 2460 Kasterlee Belgium
About this event
Laurence Rassel werd in 1967 geboren op de grens tussen België, Frankrijk en Luxemburg, in een staalindustrie in verval, die zij verliet om kunst te gaan studeren in Brussel. Daar, aan het begin van de jaren negentig, werd zij geconfronteerd met het verschil in sociale klasse en de mythe van het artistieke genie, uitsluitend mannelijk, die de kunstacademie bood. Er ontstond een behoefte aan een vorm van zelfeducatie, die de basis legde voor de praktijk van Laurence Rassel: de ontdekking van het cyberfeminisme, collectief werk, de precaire economie en vooral de vriendschap. Zij begon haar verenigingsleven bij de organisatie Constant, onder de institutionele radar, waar zij zich de ideeën van open source eigen maakte. Deze ervaring bracht haar er later toe om als directeur de opening van de archieven van de Fundació Antoni Tàpies in Barcelona voor te stellen. Vandaag voert zij aan de Grafische Onderzoekschool van Brussel (ERG) een project uit dat gericht is op het collectief, het proces en de overdracht. Zij herdefinieert het begrip gezag en stelt zich een autonome instelling voor, waar iedereen de mogelijkheid heeft in te grijpen in de structuur. Door haar carrière als regisseur en curator leidt Laurence Rassel levens, meerdere tegelijk, en streeft ze ernaar om alles wat ze heeft gemist mogelijk te maken.
ENGLISH:
Laurence Rassel was born in 1967 on the border between Belgium, France and Luxembourg, in a declining iron and steel basin, which she left to study art in Brussels. There, at the beginning of the 1990s, she was confronted with the difference in social class and the myth of artistic genius, exclusively in the male form, which the art school offered. The need for a form of self-education became apparent, which would lay the foundations for Laurence Rassel's practice: the discovery of cyberfeminism, collective work, precarious economy and friendship above all. She began her community life at the Constant organisation, under the institutional radars, where she appropriated the ideas of open source (1997-2008). This experience later led her to imagine the opening of the archives of the Fundació Antoni Tàpies in Barcelona, as director (2008-2015). Today, at the erg (école de recherche graphique) in Brussels, she is leading a project oriented towards the collective, process and transmission. She redefines the notion of authority and envisages an autonomous institution, where everyone has the possibility to act on the structure. Through her career as director and curator, Laurence Rassel leads lives, many at the same time, and strives to make everything she has missed possible.