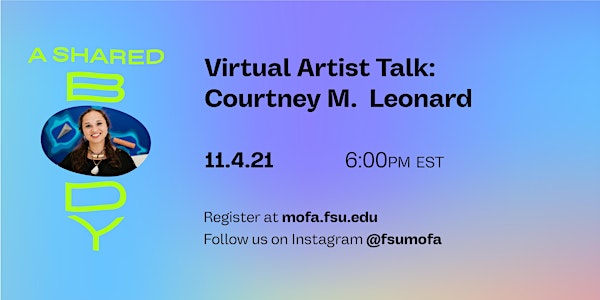 Artist Talk: Courtney M. Leonard
On Thursday, November 4th at 6:00 PM EST, join us for an artist talk by Courtney M. Leonard!
About this event
Featured in MoFA's current exhibition, A Shared Body, Leonard is an interdisciplinary artist whose ongoing series BREACH explores the human connection to historical, cultural, and natural resources. The new work, BREACH: Logbook 21 ӏ HYPOXIC, is an installation with ceramic, painted, video, and found elements exploring the oyster harvesting industry. With an emphasis on care, community, and place, her work highlights tangible technologies with the intangible connections that exist within community networks, including collective responsibility, knowledge, and understanding.
Click to learn more about Courtney M. Leonard.
Click to learn more about A Shared Body.
This event is free, virtual, and open to the public. After you register, you will receive a Zoom link to stream the event. Reach out to program coordinator Annie Booth at albooth@fsu.edu with any questions ahead of the talk.