Description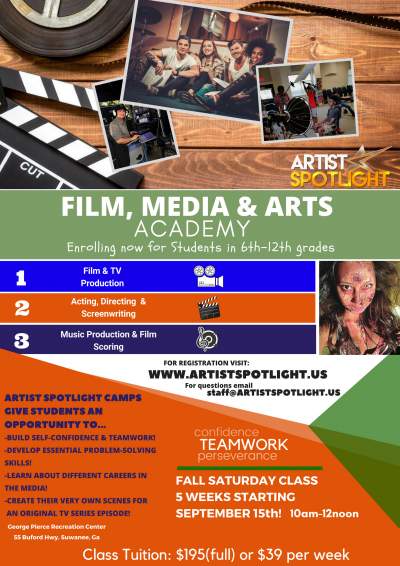 The Artist Spotlight Experience is a "hands-on" series of weekend workshops geared at middle school and high school students looking to learn more about careers in film, television, broadcasting and other areas of the media.
ARTIST SPOTLIGHT CAMPS GIVE STUDENTS AN OPPORTUNITY TO...
-BUILD SELF-CONFIDENCE & TEAMWORK!
-DEVELOP ESSENTIAL PROBLEM-SOLVING SKILLS!
-LEARN ABOUT DIFFERENT CAREERS IN THE MEDIA!
-CREATE THEIR VERY OWN SCENES FOR AN ORIGINAL TV SERIES EPISODE!
By bringing students into a cinematic world complete with industry-grade equipment, and renowned, talented instructors, we will provide a unique, unforgettable learning experience that will prepare your children to successfully face obstacles, shape their character, build new skills and reinforce their confidence and ability to socialize with different people in an exciting, fun-packed environment.
BEGINNING SATURDAY SEPTEMBER 15TH FROM 10AM-12NOON FOR 5 SATURDAYS!