Location
Open Studios Office
1128 Pine Street
Boulder, CO 80302
Refund policy
Contact the organizer to request a refund.
Eventbrite's fee is nonrefundable.
Calling All Artists 15 and older! Make art en plein air in Boulder County, Colorado. Enter your work in our exhibit, competition and sale.
About this event
IT'S HAPPENING JUNE 3-11, 2022!
This year's event is open to any artist from Colorado, age 15 and older, from Colorado and beyond. Registration is required to submit art for the Event's Awards Competition and Sale on June 11th.
Capture any and all the Boulder County scenes of your choice – open space or urban – by making art en plein in the medium of your choice between June 3rd and 11th, then consign this art for the final exhibit, awards jury, and art sale at Boulder's Historic Chautauqua auditorium.
Artists of any skill level are invited to register and participate.
Plein Air Event Schedule
• June 3-9, 8 am to 2 pm each day: Substrate stamping with event dates, at our Info Tent in front of the Chautauqua Dining Hall, Chautauqua Park, 900 Baseline in Boulder. Alternate location for stamping: the office of 1st Congregational Church, 1128 Pine Street, Boulder, 9 am to 4 pm weekdays. A stamp is necessary for acceptance into the event exhibit and sale. Questions? Contact us at info@openstudios.org or leave a message with your call-back number at 303-444-1862.
• June 3-10: Paint, draw, sculpt, stitch, etc. the Boulder County scenes of your choice (observe applicable site rules and regulations). A list of suggested painting locations with accessible restroom facilities will be provided to registrants.
• June 11, 9 am to noon: Artwork drop-off & consignment for Event Exhibit, Awards Jury and Sale at the exhibit and sale location, Chautauqua Auditorium, Chautauqua Park, 900 Baseline in Boulder. Registered participants may consign up to three pieces of art. Artwork must be framed for exhibition.
• June 11, 4 – 7 pm: Event Reception, Exhibit and Sale at the Historic Chautauqua Auditorium.
To see a list of Award Categories, visit openstudios.org/boulder-plein-air-fest.
2022 Boulder County Plein Air Event General Registration $85 | Students (15 - 21) $25
Current Open Studios Artist Members receive a $10 discount.
Scholarship and sliding scale fee inquiries welcome. Contact us: info@openstudios.org / 303.444.1862
By registering for this event, you agree to the the following Participation, Refund and Publicity terms and conditions:
​Participation Waiver - Registrant acknowledges that registration and participation is voluntary, and that by registering for this event he/she/they is solely responsible for any loss, sickness, damage or injury, including death, that may be sustained on the premises or any location where any event/activity is being conducted. Registrant acknowledges that he/she/they will be participating in a group activity during an ongoing pandemic and is solely responsible for any sickness or injury, including death that may arise from participation.
​Registrant agrees to hold Open Studios and their employees, associates, directors and volunteers, harmless from any loss, financial or otherwise, resulting from accident, theft, breakage, fire, flood or any other cause or Act of God.
Refunds - Full payment is required with registration. Open Studios recognizes that life happens and will refund you 90% of Event fees paid if you find it necessary to cancel by May 1, 2022. After May 1, we will refund 90% of fees paid. Open Studios reserves the right to cancel the event. If the event is cancelled, registrants will receive a full refund of fees paid.
Publicity Waiver - Unless informed otherwise, Open Studios will consider photographs taken of participants and of their artwork to be permissible for publication in promotional materials, including on the internet.
_____________________________________________________________________________________________________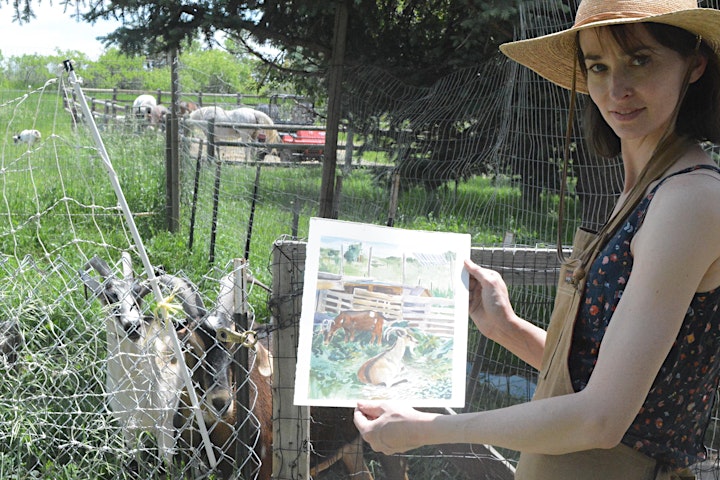 Artist Jessica Lanan, Boulder County Plein Air Event 2021