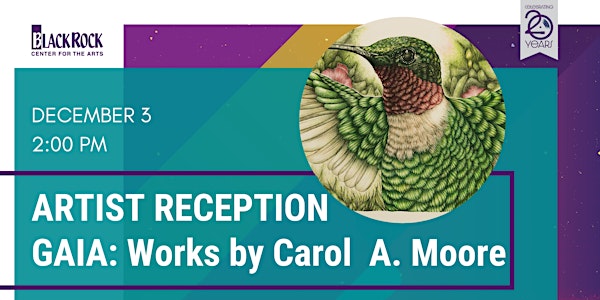 Artist Reception for GAIA: Nature Prints by Carol A. Moore
Local printmaker, Carol A. Moore addresses the human experience through the lens of nature in an exhibit encompassing 35 prints.
When and where
Location
BlackRock Center for the Arts 12901 Town Commons Drive Germantown, MD 20874
About this event
GAIA: Human Experience Through the Lens of Nature opens November 13, 2023 and runs through January 7, 2023. The Reception and Artist Talk will be held December 3, 2022 from 2:00 P.M. to 4:00 P.M.
Nature is the universal language that Moore uses to express themes about love, childhood, family, death, dreams, and aging. More than 35 prints will be on display.
There will be four components to this exhibition:
The Images – Human Experience Through the Lens of Nature. Carol tells us that the images in this exhibit are inspired by her life story and that her prints have become symbols inspired by nature and have helped navigate her journey. It is her hope that this work will nurture and inspire others.
"Behold My Heart" Journal – Carol wants viewers to deepen their experience by viewing this special offering of her handmade journal composed of original prints and journal entries that describe her intentions.
Specimen Boxes – A series of plant specimen boxes will be on display, bringing insight into Carol's earthly inspiration which is the foundation of her work.
Educational Display – This display will explain printmaking techniques and materials using her work as reference. Moore says, "…viewers will learn about original prints and editions, why printmakers work in reverse, what an etching and lithography press looks like, and more."