Description
Join us this Saturday afternoon at Art.Science.Gallery. for an artist talk and Q & A with David Martínez and hear the stories behind the works in his retrospective solo show. Enjoy the exhibit and gallery gift shop; light refreshments will be served.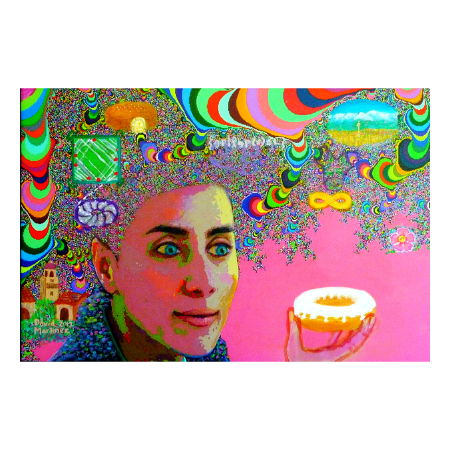 DAVID MARTÍNEZ RETROSPECTIVE Exhibition Dates: February 25 - April 1, 2017
Art.Science.Gallery. is proud to feature a retrospective solo exhibition by science folk artist DAVID B. MARTINEZ (Austin, Texas), whose colorful paintings draw equally from rich cultural mythologies as well as the history of science.
A self-taught artist, Martínez's goal is to create and illustrate a new mythology drawn from modern and ancient sources. He is equally inspired by physicists (such as Einstein, Bohr, and Feynman) as he is goddesses (including Nut, Inanna, and La Virgin de Guadalupe). Martínez's vibrant paintings symbolize the most important theories in physics to emerge in recent centuries. The work is steeped in a folk-art aesthetic that is deeply layered with meaning, resulting in brilliant and visually complex retellings of the major scientific discoveries and controversies of our time
Gallery hours are Tuesday and Thursday 1pm-6pm and Wednesday, Friday, and Saturday 10am-5pm. A closing reception for Martinez will be held on Saturday, April 1, 2017 from 7-9pm.