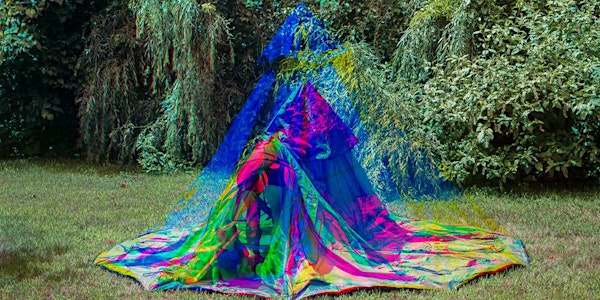 Artist-Parent or Parent-Artist: On Identity and Praxis
When and where
Location
SVA 209 East 23rd Street Amphitheater, Room 311 New York, NY 10010
Description
KIDS ARE WELCOME AT THIS EVENT!
This panel discussion will focus on artists who are also parents are able to balance time with their children along with devotion to their studio practice. Artists Scott Alario, Qiana Mestrich, and Leah Bedrosian Peterson, along with moderator and artist Anna Ogier-Bloomer, will discuss the challenges faced by artist-parents, methods for increasing inclusion and awareness of issues, and ways in which parenthood has impacted each panelist's practice. We will investigate the altered artist identity of those with children, how it shifts, and how we see ourselves in comparison to how others view artists with children. These three artists on this panel exemplify the ways in which artists and parents can manage both, and, in the process, make great contributions to art making and contemporary discourse.
This panel includes three active photographer/artist/educator/parents: Scott Alario's recent solo exhibition at Kristen Lorello in New York City includes a series of works created collaboratively with his wife and two children; he also teaches at Alfred University. Leah Bedrosian Peterson serves as the chair of the department of communication at Lycoming College; her multimedia work Erasure examines the cultural and environmental changes occurring in Southeast Asia and has been featured on Hunger Magazine's website and published in the magazine "Heritage for the World", a distribution of National Geographic. Qiana Mestrich is a prolific writer and photographer, and co-founded an independent press, Secretary Press, through with she co-published How We Do Both: Art and Motherhood. Her upcoming book, Diversity in Contemporary Photography will be published by Routledge in 2017/18. Moderator Anna Ogier-Bloomer is the Assistant Director of Career Development for the School of Visual of Arts in New York City and a practicing photographer whose work has been featured in Feature Shoot, Huffington Post, BUST.com, Refinery29 and the Daily Mail.
FREE and open to the public; registration is required.
Co-hosted by SVA Career Development and MPS Digital Photography.

SCOTT ALARIO is an artist living and working in Alfred, NY. His practice uses photography and is a collaboration with his wife and two children, working together to stage, perform, and edit the images. Alario received an MFA in Photography from RISD and a BFA from the MassART. Group exhibitions include RadiatorArts, LeRoy Nieman Center for Print Studies, Louis B James Gallery all in NYC. His work has been discussed in, Time Lightbox and Vice.com, among others. He is a 2013 Critical Mass Finalist and the recipient of a Fellowship Merit Award from the Rhode Island State Council on the Arts. Alario is visiting assistant professor at the School of Art and Design, Alfred University. He is represented by Kristen Lorello Gallery in NYC.
LEAH BEDROSIAN PETERSON is an interdisciplinary artist whose work deals with issues of cultural identity and questions the role of fantasy in our daily lives. She is Associate Professor and Chair of the Dept. of Communication at Lycoming College where she teaches filmmaking, video, 2D animation, and contemporary art history. She also is the Director of the Digital Media Gallery and serves on the board of directors for the Central Pennsylvania Film Office. She received an MFA from SMFA Boston and a BFA from Pratt. She has exhibited most recently in Atlanta, Chicago, Brooklyn and Washington, and abroad in Switzerland and Colombia. Her work has been published online in Heritage of the World by National Geographic, and Hunger Magazine online.
QIANA MESTRICH is a photographer, writer, photo historian, digital marketing professional and mother of two from Brooklyn. She is the founder/editor of Dodge & Burn: Decolonizing Photography History, a blog dedicated to recording a more inclusive version of photography history, featuring contributions to the medium by photographers of color and works about underrepresented cultures. Her critical writing has been published in art journals like Nueva Luz, ARC Magazine and SPE's exposure. She is the co editor of How We Do Both: Art and Motherhood (Secretary Press), a diverse collection of honest responses from contemporary artists on raising children and making art, and the founder of the blog Dodge & Burn: Diversity in Photography History, which will be published as a book by Routledge in 2018. She holds an MFA from ICP-Bard College and a BA from Sarah Lawrence College.
Moderator: ANNA OGIER-BLOOMER holds an MFA in Photography from Parsons and a BFA from SMFA Boston. Her work has been featured on Feature Shoot, Refinery29, Huffington Post, BUST.com, the Daily Mail, amongst others. She has exhibited nationally, including Wellesley College, Contemporary Art Center Cincinnati, MFA Boston, and the Attleboro Arts Museum. She has received grants from Chashama, SMFA Boston, and CSArts Cincinnati. Anna is graduate faculty at School of Visual Arts and has been an adjunct Assistant Professor at CUNY. She serves as the Asst. Dir. of Career Development at SVA where she lectures frequently on professional practices for artists. She lives in New York City with her husband and daughter and travels often for her work.