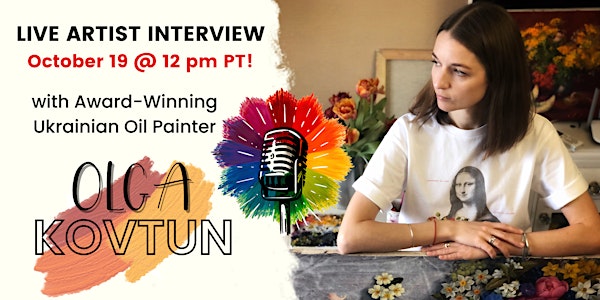 Artist Interview with Award-Winning Ukrainian Oil Painter, Olga Kovtun
Musea Intentional Creativity Museum presents award-winning Ukrainian oil painter, Olga Kovtun, in conversation with Curator Shiloh Sophia
Refund Policy
Contact the organizer to request a refund.
Eventbrite's fee is nonrefundable.
About this event
MUSEA Intentional Creativity Museum invites you to join us for our live Artist Interview with award-winning Ukrainian folk art and oil painter, Olga Kovtun, who will share with us the inspiration for her incredible oil paintings that reflect the beautiful traditions and culture of the Ukrainian people. Olga will also share her personal reflections on the impacts of the war in the Ukraine, the situation from her perspective, and the ways in which the experience of war informs her art.
Donations received for this show through Eventbrite will be directed to the National Union of Artists of Ukraine to support Ukrainian artists to continue making their invaluable contributions to the arts and cultural wealth of the Ukraine in wartime.
About Olga
Olga is a member of the Union of Artists of Ukraine. In 2012 she received a grant from the President of Ukraine for gifted youth, and in 2015 became a laureate of the Kyiv Art Prize in the field of fine arts named after Serhiy Shyshko. She has been awarded the Honored Artist of Ukraine, and the a prestigious award for outstanding contribution to the development of art.
Her area of interest is sacred, monumental easel painting and icon painting and her art work is held in private collections in the Ukraine, Poland, Georgia, Russia, Germany, France, USA, Iceland, Spain, England and Canada.
You can learn more about Olga here and connect with her incredible art on Instagram @kovtun_olga_art.
This Artist Interview will be conducted by Curator and Artist, Shiloh Sophia, with the MUSEA Co-Curators. An interpreter will be present to support live translation as we hear Olga share about her incredible artwork!
We look forward to having you as a guest at the Museum!
~ The Musea Co-Curators