Artist India Flint teaches "Beginning From Basics Dye Class"

Tuesday, September 8, 2015 at 10:00 AM

-

Thursday, September 10, 2015 at 2:00 PM (CDT)
Event Details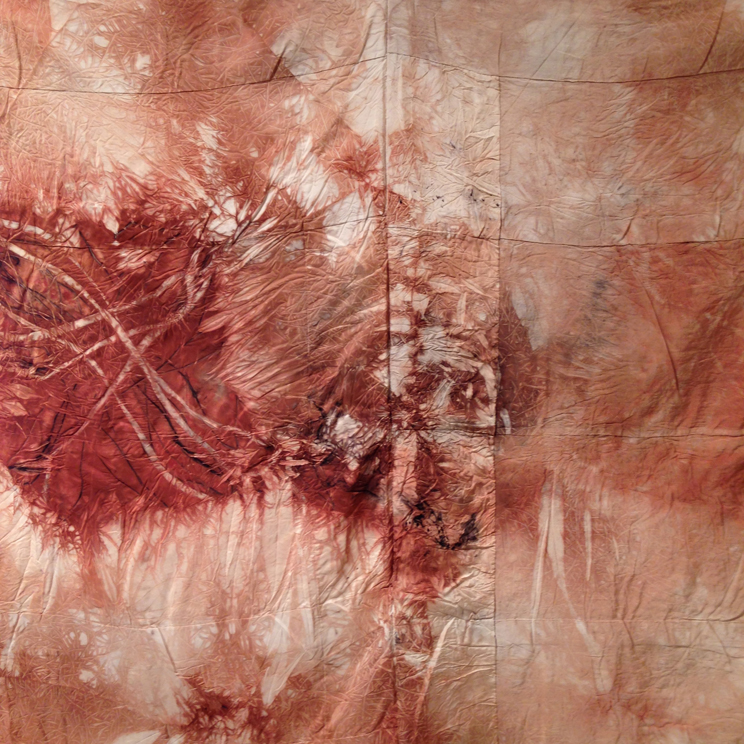 India Flint's "Beginning from Basics Dye Class" is a wonderful learning experience for visual artists, gardeners, and others. Over the course of three days, attendees will learn the ins and outs of making brews and mordants, as well as how to manage fabrics, harvesting techniques, bundling, and preserving. Exact class times TBD, but will be during the day.
Please note: The full cost of the class is $700. Through Eventbrite, interested participants can reserve their spot in the class with a $150 deposit. The balance of $550 is due by July 31, 2015. Deposits are refundable if participants withdraw on or before July 31. Participants who have not paid their outstanding balances as of August 1 may be removed from the class roster if there are others waiting to enroll. Please email Marguerite Green with questions: mgreen@noccainstitute.com.
ARTIST'S STATEMENT FROM INDIA FLINT
i am
botanical alchemist & string twiner,
storyteller,
forest wanderer & tumbleweed,
stargazer & stitcher,
working traveller, dreamer, writer
and the original discoverer of the eucalyptus ecoprint
...dyeing for a living in the deep south
i work
on a rural property
at the end of a dirt road
dusty in summer, muddy in the rainy season
dyeing the things that i make
with leaves that i gather from the paddocks
in a cauldron over a fire fed with twigs
small twigs burn bright
my work conflates the visual and written poetics of place and memory, using ecologically sustainable contact print processes from plants and found objects together with walking, drawing, assemblage, mending, stitch and text as a means of mapping country, recoding and recording responses to landscape - working with cloth, paper, stone, windfall biological material, water, minerals, bones, the discarded artifacts and hard detritus of human habitation, the local weed burden. the work has been described as using " the earth as the printing plate and time as the press"
i negotiate a path between installation, printing, painting, drawing, writing and sculpture - immersing myself in and paying deep attention to the environment, gathering thought and experience, imagery and marks, as well as harvesting materials for making; trying to step lightly on the land while being nourished by it. the work of each day, philosophically rooted in topophilia [the love of place] literally begins with a walk.
When & Where

Press Street Gardens
7 Press Street
New Orleans, LA 70117


Tuesday, September 8, 2015 at 10:00 AM

-

Thursday, September 10, 2015 at 2:00 PM (CDT)
Add to my calendar
Organizer
The NOCCA Institute
Founded in 1973, the New Orleans Center for Creative Arts is Louisiana's arts conservatory for high school students. NOCCA offers intensive instruction in Classical Music, Creative Writing, Culinary Arts, Dance, Drama, Jazz, Media Arts, Musical Theatre, Theatre Design, Vocal Music, Visual Arts, and academics. Students come from across Louisiana, attending via full-day, afternoon, and after-school sessions. Admission to NOCCA is by audition, and there is no tuition.
The NOCCA Institute is NOCCA's nonprofit partner, providing supplemental funding for NOCCA and advocacy for its world-class program. Some of the Institute's more notable endeavors include: a comprehensive Financial Aid Program that funds students' supplies and fees associated with important summer training programs across the country; an Artists-in-Residence Program that brings more than 100 professional visiting artists into NOCCA's classrooms each year; the capital campaign for NOCCA's current home and expansion projects along the Press Street corridor, including Press Street Station, 5 Press Gallery, and Press Street Gardens; and concert, gallery, and literary events for the community. The Institute also oversees rentals of the NOCCA campus, making it available to arts organizations, individuals, corporations, and other groups.
Artist India Flint teaches "Beginning From Basics Dye Class"