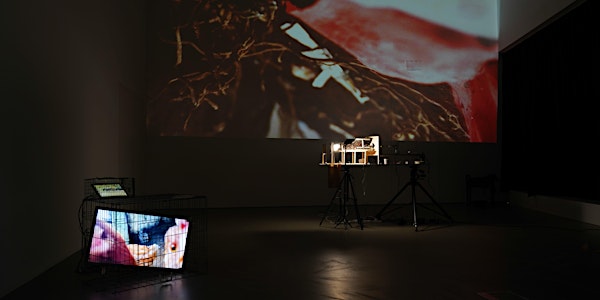 Multiple dates
Artist-in-Residence Exhibition: Fuyuka Shindo & Ryusuke Ito DETAILS BELLOW⬇
APPOINTMENT 3 WEEKS PRIOR ONLY! Ongoing Artist-in-Residence Exhibition presenting the works of Fuyuka Shindo and Ryusuke Ito
By Troy house Art Foundation
Date and time
January 24 · 11am - May 14 · 6pm GMT
Location
SW11 7AX 10-12 New Union Square London SW11 7AX United Kingdom
About this event
Overview
In 2020, the residency projects were forced to pause along with the sweeping of the pandemic. Troy House Arts Foundation has continued the Points International Artist Residency Programme launched in 2018, the ongoing programme of artists' residencies and relevant exhibitions set in the historical buildings in the ancient town of Jinxi in China. In 2022, the Points Centre for Contemporary Art (PCCA) has launched a new residency site in London and Wales in UK, encouraging diverse, transcultural, and multidisciplinary experiments in contemporary art making, and support the artists on a planetary scale to develop their work and research. With great efforts, we are delighted to announce that our residency projects are eventually brought back to the stage in Wales, the first time in two years. The first renewing Artist-in-Residence exhibition will present the works of two Japanese artists recommended by our friendship partner S-Air and sponsored by The Great Britain Sasakawa Foundation.
After the Artist Talk and Discussion "Spontaneous Losing Sense of Scale" & "Cemetery tour" taking place on 16th November, with our two Japanese artists in residence: Fuyuka Shindo and Ryusuke Ito, Troy House Art Foundation is pleased to present the Artist-in-Residence Exhibition which will open on 6th December. The exhibition Juxtaposes the works of the two artists in Troy House Art Foundation in London, including I collect Bicycle parts for the same reasons I like these assembled handmade tools and objects presented by Fuyuka Shindo, and Techniques of Misunderstanding presented by Ryusuke Ito.
Fuyuka Shindo
Based in Sapporo, Japan, Fuyuka Shindo has been producing work based on her fieldwork as a way of confronting specific events in local as well as national history of Japan. In recent years, she has become interested in how history has been preserved, for example, in monuments, remains and ruins, as well as in archives and oral traditions. In her practice, she explores the ways in which audiences experience and witness artworks and events. In 2016, she was awarded an Asian Cultural Council grant to stay in New York and has participated in various art projects in Japan and internationally. Her work is currently shown as part of Roppongi Crossing 2022 (Mori Art Museum, Tokyo).
Ryusuke Ito
Ryusuke Ito is a Japanese artist practicing video art, also a diehard experimental filmmaker still working with silver halide film.
His interests and curiosities focus on the materiality of moving images as a medium and its social function as a communication system. His series of video installations known as "Realistic Virtuality", he creates detailed miniature sets, which symbolize our modern life, such as a food court of a shopping mall, a flying drone and a ruin of a nuclear plant, and video-shoots them to live, and enlarges images of a miniature set trough projectors juxtapose them each other. Through eye-witnessing gaps between powerful, realistic images and its poor "original", his work is playful and amusing with sensing structures of video as a medium, as well as arousing suspicions of credibility of nowadays visual media, such as movies, TV and social networking services.
He is also known as a Japanese manga critic "Kenji Murasame" contributing to a magazine for various papers and magazines since the 1980s.
Troy House Art Foundation
The Troy House Art Foundation was established in London in 2017 by Shanghai-born artist and producer Yuan Gong to encourage exchanges in contemporary art and culture, particularly between Europe and Asia. To this end, Troy house|art is a multimedia platform currently spread across four locations in China and Great Britain. Responding to the transformed cultural and social environment of the post-pandemic world, these platforms support aesthetic and environmental research and the production of experimental art, photography, video, and film that both reflect and comment on these changing circumstances. The Troy House | Collection of contemporary time-based/digital art from different parts of Asia will also continue to grow along the same lines.