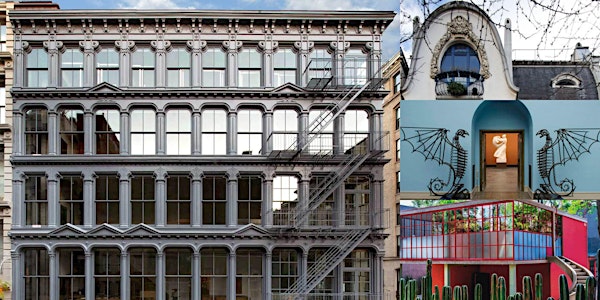 'Artist Homes & Studios, Part III: Post War Through Present Day' Webinar
Can't make it live? Register and get access to the full replay for one week! New York Adventure Club | www.AdventureClub.com
About this event
From the bold and beautiful to just plain bizarre, the history of architecture encompasses a vast number of unique works throughout the world. Though whatever the design, architecture not only ensures a building's structural integrity, but also acts as a reinforcer of its cultural standing and representation of the ideas and activities that take place inside its walls. From palaces and theaters, to factories and apartment houses, it's time to explore some of the most incredible architectural wonders still standing.
Join New York Adventure Club for our three-part Artist Homes & Studios series, where we virtually scour the globe to uncover some of the most remarkable and astonishing works of architecture ever constructed. In Part Three, we'll examine incredible homes and studios of artists throughout the world from the development of early Modernism through the Contemporary period.
Led by architectural historian David V. Griffin of Landmark Branding, this digital showcase featuring a selection of unique structures will include:
Studios that incorporate industrial and agricultural buildings
Elegant homes, such as the ancient restored Pueblo of one of America's foremost woman Modernists
An old plantation dwelling with a treasure trove of African-American outsider art
An in-depth look at each building's construction, context, and current status, with a focus on properties preserved and open to the public
Afterward, we'll have a Q&A with David — any and all questions about these unique buildings are welcomed and encouraged!
Can't make it live? Don't worry, you'll have access to the full replay for one week!
See you there, virtually!
*Immediately upon registering, you will receive a separate, automated email containing the link to join this webinar
**For the best possible viewing experience, please ensure you're using the latest version of your internet browser — Google Chrome is the most compatible. Exact technical requirements and a webinar user guide will be shared in the automated confirmation email upon registration.
***A full replay of the experience will be available to all registered guests for up to a week
The Artist Homes & Studios Series
Part I: Renaissance Through 19th Century
Part II: Late 19th Century Through WWII
Part III: Post War Through Present Day
Testimonials
"I especially liked seeing the newer, more contemporary studios, although a review of various studios in art/paintings provided a excellent base to build upon." - Nancy
"He covered a wide time frame and wide range of artists." -Kathleen
"An incredible wealth of material. Great images." -Mar
"Fascinating presentation. Appreciated the lists of studios and artworks." -Katherine
"Very good speaker and quality and interest of information." -Jane
"It was informative and entertaining." -Simonetta
"Very thorough, excellent graphics, clear presenter." -Charles
"What a lot of territory was covered! The program probably exceeded my expectation by 500%...quite seriously! It was fabulous. I was running to keep up; found myself out of breathe and loved every minute!" -Jacqueline
"I loved seeing the artists studios, and David's narrative about the artists is full of interesting information and humour." -Gayle
"Speaker was VERY knowledgeable, packed in a lot of content but kept it moving. Very funny as well!" -Cindy
"It was fantastic. A feast for the eyes and ears. I would love to see the presenter write a book on this subject. Wonderful!" -Michelle
"Everything. Looking forward to watching again. Really FAB handouts... never seen that before... but incredibly helpful!!!" -Charles M.
"The presenter was amazing and interesting." -Janet
"Fabulous photos, knowledgable presenter, detailed information." -Cindy S.
"I liked the wide range of artists and their most significant signature masterpieces. Enjoy David Griffins webinars immensely." -Mardine
"The presenter was so knowledgeable, well-prepared, engaging." -David
"Presenter is so knowledgeable, and is comfortable talking about the topic. Very interesting coverage of many studios." -Claudia
"The extensive coverage of sites and the quality of info presented about each" -Leon
"His presentations are always interesting and put together excellently." -Karen
"Very interesting use of the painter's paintings as well as the actual studios. His analysis is very insightful." -Lee
"Unique approach to artists, art history time span, worth the time and money" -Lynne
Disclaimer
By attending a New York Adventure Club experience, you accept our terms of service.
Categories: Virtual, Art & Entertainment