Artisans of the Grasslands - Savory Institute International Conference
When and where
Location
Hyatt Regency - San Francisco Airport 1333 Old Bayshore Hwy Burlingame, California 94010
Refund Policy
Contact the organizer to request a refund.
Description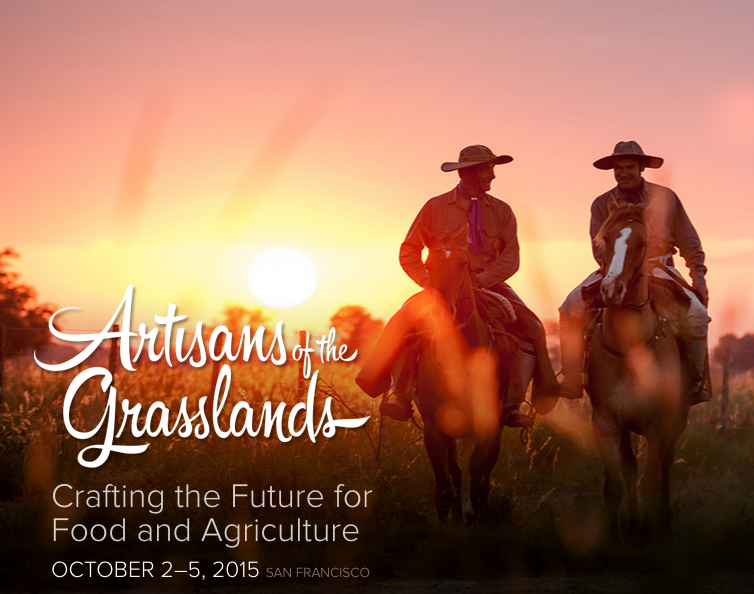 For the most up to date information on the conference go to:
http://savory.global/artisans-of-the-grasslands
This unprecedented event will be a venue for producers and consumers to come together and celebrate the cadre of people embracing the holistic paradigm shift in ecology, health, and diet. Join us, along with all thirty Savory Institute Hubs and everyone from gauchos, to Massai, to cowboys — all of whom are actively engaged in this movement. These artisans, who have built their livelihood on fostering an intimate relationship with the land, will commune with passionate families striving to feed their children clean, healthy food that helps rejuvenate the environment on which we all depend.
Grasslands are being healed all over the world as pastoralists of all races, genders, religions, and ages band together in a unified effort to regenerate the land and paint a brighter future for all humanity. Holistic Management practitioners use existing resources to sculpt degraded terrain and transform it into thriving working landscapes.
A new era of food production and healthy living is upon us
We've seen a new awakening among people to embrace living in harmony with their environment — making healthier food choices, and staying active. As we blaze forward, our next step is to engage urbanites. As the incredible poet Wendell Berry was quoted, "Eating is an agricultural act," and we must meet people where they are — their daily food choices.
Conference Venue
The conference will be hosted at the Hyatt Regency Burlingame.
San Francisco is an ideal location for our partners and collaborators from around the globe to join us for this year's annual international conference. This unique location with easy fly-in-fly-out access to the San Francisco International Airport provides all the modern amenities to host our world-gathering.
Lodging at Discounted Conference Rate
SPEAKER BIOS
This year's conference will include an engaging and dynamic line-up of speakers from multiple industries and spaces. These presenters will include experts in the fields of soil science, climate change, permaculture, range science, the local food movement, human health, conservation biology, and alternative finance. Prepare to interface with some of the world's thought leaders in everything from the food we eat, to being profitable land managers. We will also be announcing our newly accredited 2015 Hub Leaders and hearing from the Savory Institute Executive Team, as well as Allan Savory himself.
Conference Speaker Line-Up:
Allan Savory - Founder of Holistic Planned Grazing
Anya Fernald – Co-founder and CEO of Belcampo Meat Co and regular judge on Food Network's Iron Chef America
Brock Dolman – Co-founder of Occidental Arts and Ecology
Bryan Welch – CEO of B The Change Media
Colin Seis – Developer of Pasture Cropping at Winona Ranch in Australia
Courtney White - Co-founder of Quivira Coalition and author of Grass, Soil, Hope
Dr. Cindy Daley – California State University Chico
Finian Makepeace – Kiss the Ground
Fred Provenza – Professor Emeritus of Behavioral Ecology at Utah State University
Jared Stone – Author of "Year of the Cow"
Jonah Sachs – Author of "Winning the Story Wars" and co-founder of FreeRange Studios famous for their animations like "The Meatrix" and "The Story of Stuff"
Judy Schwartz - Author of "Cows Save the Planet"
Kat Taylor – Co-founder of TomKat Ranch and CEO of Beneficial State Bank
Kelly Mulville – Paicines Ranch
Nicolette Hahn Niman – author of "Righteous Porkchop" and "Defending Beef"
Robb Wolf – New York Times best selling author of "The Paleo Solution"
Sally Fallon Morell – Founding president of the Weston A. Price Foundation
Sara Scherr – CEO of EcoAgricultural Partners
Tom Newmark – Co-owner of Finca Luna Nueva Farm in Costa Rica and co-founder and chair of The Carbon Underground
Woody Tasch – Founder and Chairman of Slow Money
And many more….
Schedule
10/2 - Friday
9:00am - 4:00pm - AG PRODUCER TRACKS
Focusing on issues specifically for producers, anyone is welcome to attend, but the conversations will geared towards producers whereas the keynotes and breakout tracks at the rest of the conference will have broader topics for a broader audience of educated consumers, investors, alternative health practitioners, and researchers.
4:00pm - 6:00pm - MIXER WITH SMALL PLATES DINNER & CASH BAR
6:00pm - 9:00pm - OPENING CEREMONIES
10/3 - Saturday
9:00am - 6:00pm - CONFERENCE KEYNOTES AND BREAKOUT TRACKS
7:00pm - 9:30pm - BANQUET CEREMONY
10/4 - Sunday
9:00am - 5:00pm - CONFERENCE KEYNOTES AND BREAKOUT TRACKS
5:00pm - 5:30pm - CLOSING
For the most up to date information on the conference go to:
http://savory.global/artisans-of-the-grasslands