Sales Have Ended
Ticket sales have ended
Thank you for registering for the Dickens Festival. Please watch your email for a confirmation from All Souls Church of Braintree. If the space you requested is not available, we will be in touch with you.
Sales Have Ended
Ticket sales have ended
Thank you for registering for the Dickens Festival. Please watch your email for a confirmation from All Souls Church of Braintree. If the space you requested is not available, we will be in touch with you.
Description
Spaces are sold out.
Waiting list only at this time.


The 25th Annual Dickens Holiday Festival - Our Silver Anniversary!
All Souls Church
196 Elm Street in Braintree, MA
Saturday, November 23, 2019
from 10 AM to 3 PM
We welcome crafters of hand made items to sell them at the Dickens Festival Holiday Craft Fair. Spaces are of differing prices depending on location and availability of electricity.
All artisans are strongly encouraged to dress in period costume. (Think Charles Dickens, Think A Christmas Carol, Think Oliver). Costume ideas: a top hat, mop hat or bonnet, white frilly blouse or shirt, colorful vest. Your costume need not be extravagant. Workers at the festival will be dressed in costume, some will be dressed as Scrooge, Tiny Tim and the Ghost of Jacob Marley. Being in costume identifies you as being part of the festival and helps create the right atmosphere throughout the festival. It is one of the things that sets the Dickens Festival apart from other fairs.
If not in costume, please dress 'up' ... you can wear a plain, plaid, or striped white, red, green or black shirt or top; please do not wear modern printed Christmas sweatshirts and clothing with slogans, etc.
Jewelry Artisans
Please note, only four jewelry artisans are accepted each year.
Those who bring jewelry as an additional item will not be allowed to display it. Even though jewelry is lovely, this limit has been put into place in response to patron requests for variety.
One registration per person, please.
One space per person.
We are unable to accept reservations from those offering free medical screenings and other services. We are unable to accept reservations from re-sellers. The marketplace is a venue for crafters to sell their handmade items. Those who do not have handmade items to sell are welcome to rent space at our Annual Community Yard Sale to be held September 21, 2019.
Occasionally someone will bring items that are not as described such as imported, mass-produced items. We reserve the right to ask that such items be removed from display. Please understand that this is a venue for crafters only, no matter how nice the items are.
The Dickens Festival will be publicized in the Boston Globe, Patriot Ledger, Braintree Forum, Braintree Advertiser, Patch.com, Boston.com, YELP.com, Eventful, other online listings, on local cable access television, on a sign in front of the church as well as signage throughout Braintree and neighboring cities and towns.
All tables and table tops are approximately 72"x 30" (6 foot) with the exception of the piano top.

All artisans will be in our church sanctuary (Marketplace).
Most tables are table tops set in place on the tops of our pews, about waist to chest height, depending on how tall you are. Some are free-standing tables. Please see pictures.
This picture below shows how the table tops set on top of the pews look before artisans decorate them and add their items. They are higher than the few free-standing banquet tables but we use the pews as legs and offer the same surface area.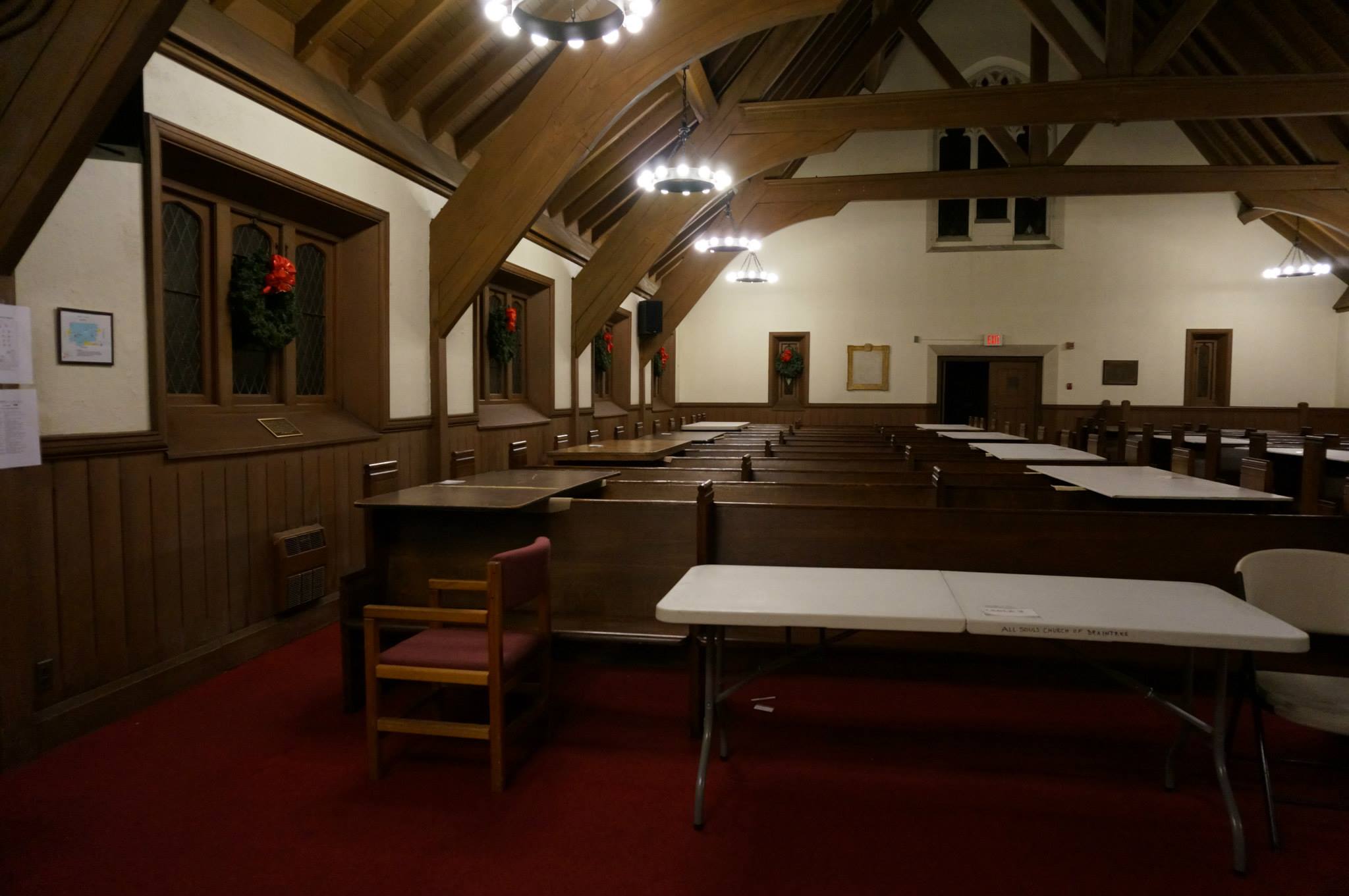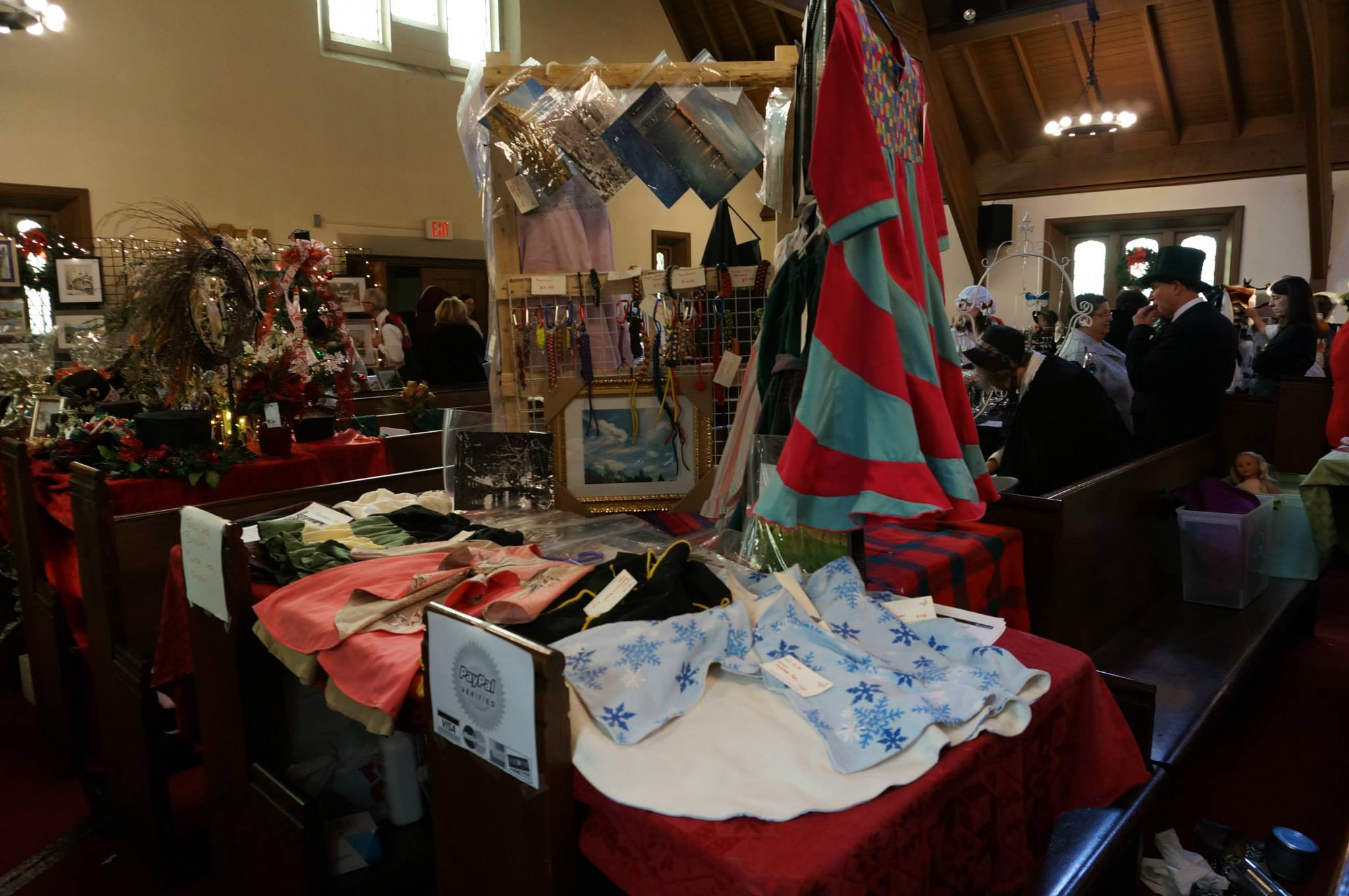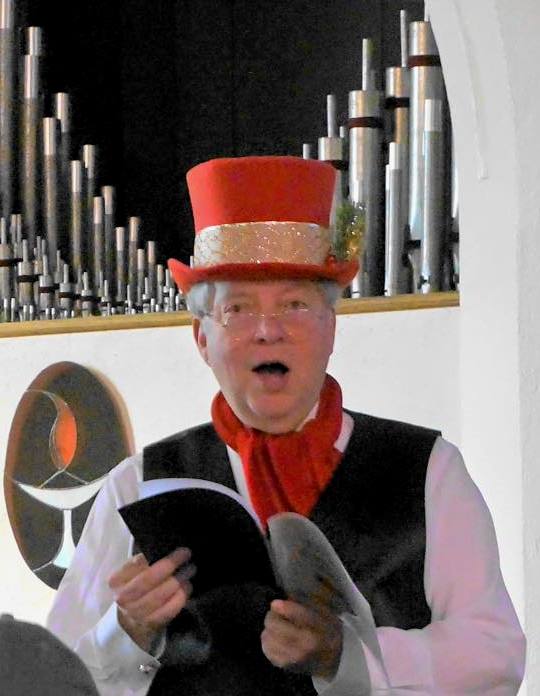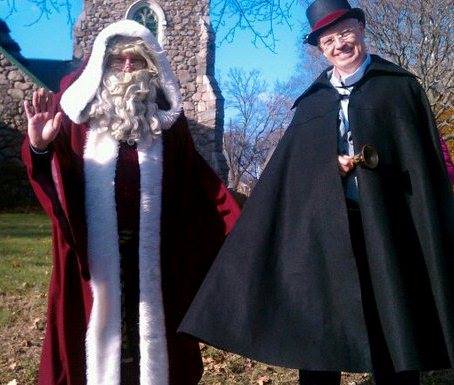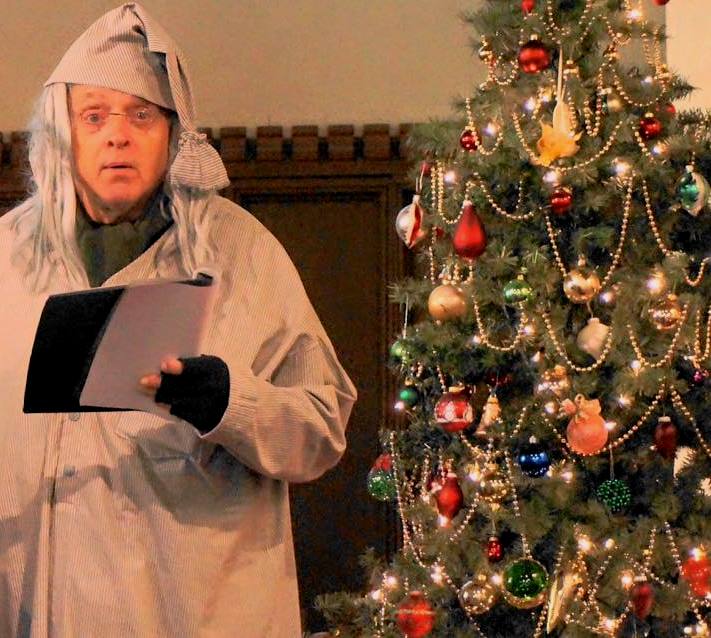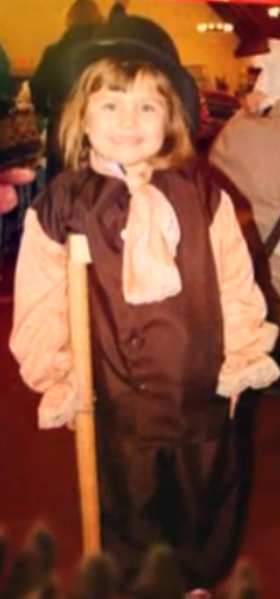 Artisans may set up begining at 8 AM the day of the festival and the Friday night prior from 5 PM until 9 PM. We urge artisans to set up the night before as it can take some time to become familiar with the building and to arrange your display. Handicap accessible restroom available.
During the festival, refreshments are available for purchase. Free coffee and tea is available for artisans. Food may be purchased from our 'tavern' at the festival and it will be delivered to your display area, but is not free. Only artisans and those working at the fair are allowed to eat in the marketplace which is our sanctuary.
No smoking is allowed in the building.
Spaces are assigned upon receipt of payment with online reservation or upon receipt of check. First come, first served. Please be aware that an online reservation for the space desired may come in while a check is still in the mail. First paid reservation received will be honored.
Your money is yours.
All receipts from artisan sales are the property of the artisan. No percentage of artisan sales is taken by All Souls. Whatever you earn, you keep.
THANK YOU! IT'S GOING TO BE A GREAT FESTIVAL THIS YEAR



The marketplace diagram shows space locations
Updating the diagram to indicate SOLD spaces is done as soon as possible after reservations are made and crafts evaluated to insure they meet the Dickens Festival guidelines.
We will be spotlighting each artisan on our Website, Facebook, Instagram and Twitter during the month leading up to Dickens with a recap each week and a list of all artisans just before November 23 ... and we will be submitting notices to area newspapers. Don't be left out of this great opportunity to showcase your items. After your registration is confirmed, we will ask you to please provide a product picture, along with a paragraph describing your craft items and you or your small business, to be used in promoting the festival and YOUR craft.
Visitors to the Marketplace use the main entrance through the vestibule at the bottom of the diagram near spaces 1 and 21.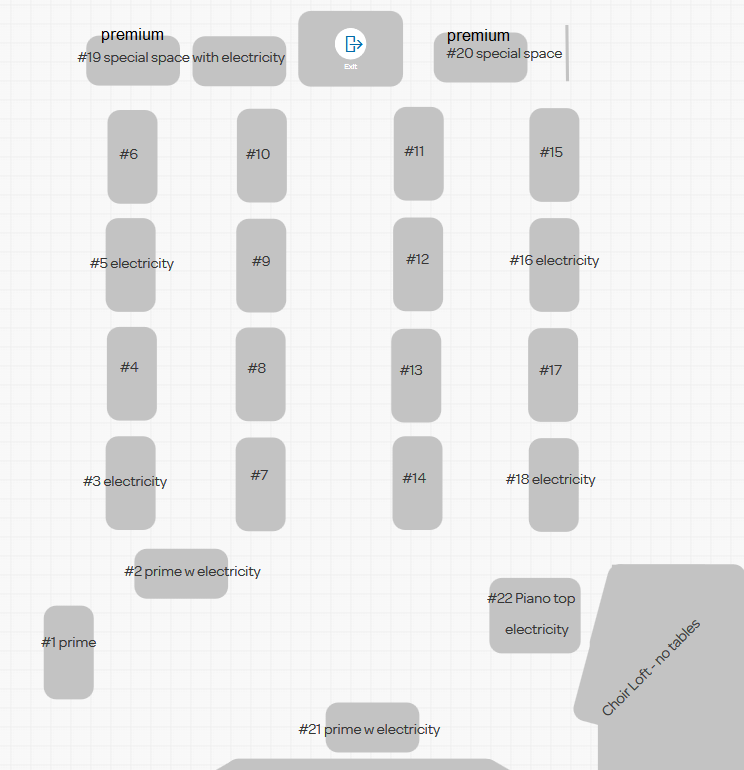 WHEELCHAIR ACCESS
SPACES 1, 2 AND 21 ARE THE SPACES THAT COULD EASILY ACCOMODATE AN ARTISAN IN A WHEELCHAIR .
FAQs - Please read to avoid any misunderstanding

What can/can't I sell at the Dickens Festival?
You can sell any home made item. Handcrafted items are what the Marketplace features. Family-friendly items, please, as patrons of all ages visit the Dickens Festival. Our focus is on providing a venue for hand crafters.
NO Tee-Shirts and sweat shirts - the only tee shirts and sweat shirts allowed are those hand-painted or hand-screen printed by the vendor. Mass produced, printed shirts cannot be accepted. We will ask to see samples of any such item before renting a vendor space. Again, our focus is on providing a venue for hand crafters.
Any food items must be gift-type, packaged items approved by All Souls Church as well as by the Braintree Board of Health Limited to 3 vendors. Please contact All Souls Church for specific guidelines with regard to such sales as we must adhere to town regulations.No baked goods will be considered and there can be no sampling allowed.
If during the festival an artisan is found to be selling items not in keeping with our guidelines, they will be asked to remove those items from the marketplace. We reserve the right to evaluate each application in the interest of maintaining a good balance and variety of offerings in the marketplace.
Cancellations
Cancellations one week or less before the date of the festival might not be refunded.
Please understand that the Dickens Festival is the most important annual fundraiser for All Souls Church and is run by volunteer church members and friends. If an artisan reserves a space and is then unable to attend the festival, it can take considerable time and effort to find a replacement as those on our waiting list often commit to other fairs while waiting for a space and are no longer available to come to the Dickens Festival on short notice. We will make every effort to do so, however we cannot guarantee we will be able to fill the space and refund the cancelling person's payment.
How can I contact the organizer with any questions?
Send emails to the event coordinator at ascbraintree@gmail.com
Call 781 843-1388
All artisans applying for a space at the Dickens Festival are presumed to understand and agree to comply with the guidelines set forth by the Dickens Committee.