Event Information
Location
6557 Garden Rd.
Unit #4
West Palm Beach, FL 33404
Description
*** ATTENTION!! DATES WILL CHANGE TO FEB 2nd, 3rd, and 4th.!! ***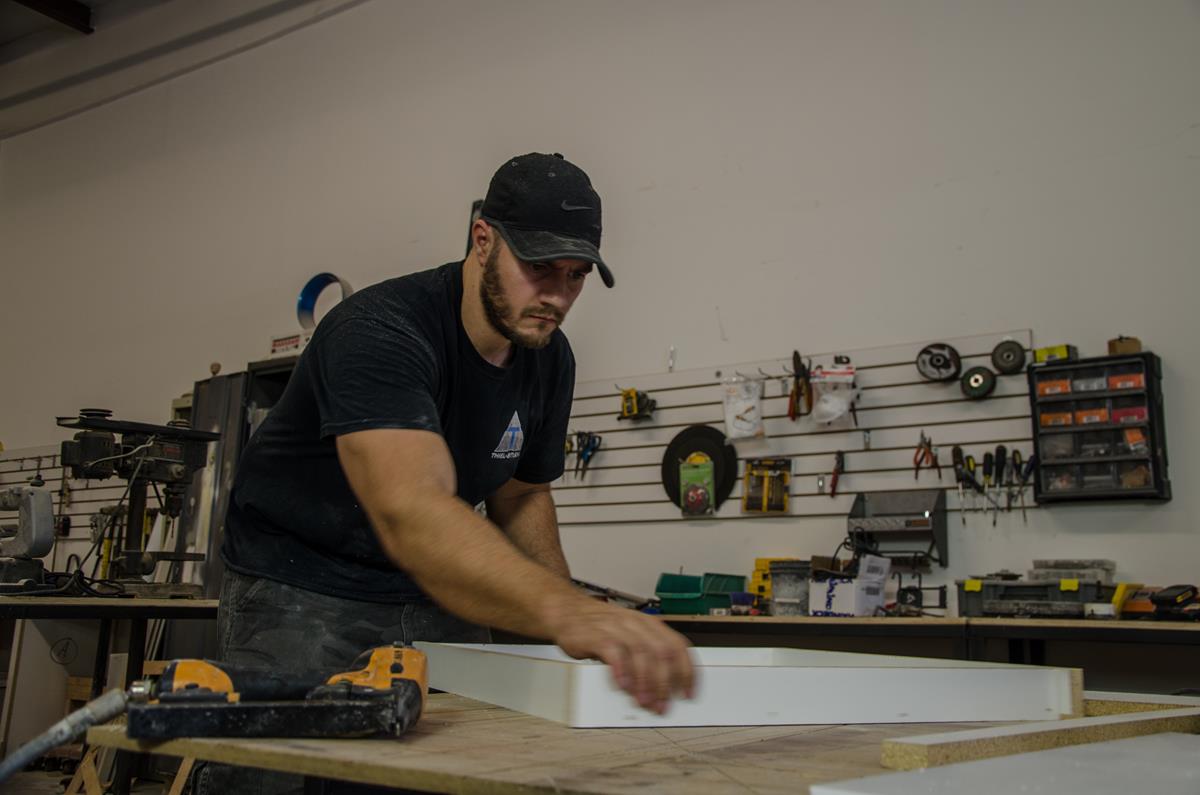 Explore the possibilites of GFRC (Glass Fiber Reinforced Concrete)
"Experience is the teacher that gives the test BEFORE the lesson."

This class will be taught by our Master Artisan and Chief Creative Officer, Josh Thiel. Josh individually has had over 20 years of creative fabrication and design experience with many different materials that have helped him to excel within the world of artisan concrete. His extensive experience as a fabricator and engineer offers an invaluable experience and insight to learn from and operate your own business. The value of learning from our mistakes far exceeds the cost of this basics class.
Within this 3 day training session we will cover the following:
Form and Mold Building (Studio - Day 1 8:30am - LATE)
Understanding Formwork Design and Layout

Fabric Forming Process

Two Part Molds - Hollow Boxing

Oversized Molds and Seaming

Fabricate a Custom Sink Mold

Silicone Mold Casting

Stretch Rubber Forming

Tips and Tricks of the trade

**EXTRA** Into the night - Learn how to Weld!
Casting Techniques (Studio - Day 2 8:30am - LATE)
Mold Preparation

Mixing Process and Techniques

GFRC and Wet Casting Techniques

Explore Pigments and Texturing Techniques

Proper Curing

Discussions and Creative Free play

**EXTRA** Into the night - Learn how to Weld Better!
Processing, Troubleshooting, and Sealing (Studio - Day 3 830am - LATE)
Unmolding, Flipping, and Handling of Fresh Casts

Processing and Polishing

Trouble Shooting and Identifying what causes various visual "defects"

Slurrying and Filling Voids

Sealing

Mechanical Seaming of slabs and color match caulking

How to Field Repair Chips

TESTING! Build confidence in your work by destroying it!

Open Discussions

**EXTRA** Into the night - Learn how to Weld More Betterer!



+ Much More including Open Discussions, Questions/Answers


FAQs:
What are my transport/parking options getting to the event?
The closest local airport is Palm Beach International (PBI, about 10min drive away). PBI is great because it's a small, no hassel airport with plenty of airline options. Fort Lauderdale - Hollywood International Airport (FLL, about 40min drive away) and Miami International Airport (MIA, about 75min drive away) are both larger airports that may have better airline ticket pricing and flight times. Both MIA and FLL have direct train routes to the West Palm Beach Station via the TriRail train system (http://www.tri-rail.com/)

Training Location:
Thiel Studios
6557 Garden Rd. #4
West Palm Beach, FL 33404

What can I bring to the seminar?
Its tough to say what the temperatures here in South Florida will look like, but you can plan for between 65°F and 80°F in early January. We recommend bringing comfortable casual clothes and plan on getting dirty during.

A workbook with print outs will be provided for taking notes. Feel free to bring your own devices for note taking and cameras for documentation. Presonal Protective Equipment (PPE) such as work boots and gloves are recommended. We will have dust masks, safety glasses available as well as protective welding gear if you choose to stay late and weld.

Where should I stay during the seminar?
There are many hotel and rental car options in West Palm Beach, but it is high-season for tourists and costs are a little higher. We had worked out a great deal with Best Western in West Palm Beach with a group rate of $139/night, but they only extended their offer unt January 1st. You can still stay there, but won't be able to get the reduced pricing after the first of the year. The hotel has a great proximity to retail/food within walking distance. We will also coordinate efforts for those who may wish to share a hotel room for those who wish to reduce their costs. If you decided not to get your own rental car, the hotel will shuttle you to and from the event for an additional $40 through the entire 3 days.

Best Wetern Palm Beach Lakes
1800 Palm Beach Lakes Blvd
West Palm Beach, FL 33401

Toll Free Number: 1(800) 780-7234
Hotel Direct Number: (561)683-8810

Date and Time
Location
6557 Garden Rd.
Unit #4
West Palm Beach, FL 33404