Artificial Intelligence: What is it & where is it taking us?

Wednesday, December 14, 2016 from 7:00 PM to 9:00 PM (EST)
Event Details
Ever wondered how Facebook guesses the friends in your photos? Have you purchased a suggested item from Amazon? Did you know Uber is already using self-driving cars in Pittsburgh?
Artificial Intelligence (A.I.) and Machine Learning, vaguely understood or noticed by most, is already amongst us in many forms. From cellphone assistants like Siri, to news articles written by software – machines are now able to learn and make decisions with a level of sophistication most of us don't appreciate.
How does A.I. work?

How is it helping humankind… and how might it be disrupting our economy?

Could it take your job?

Could it threaten the human race, as some of the brightest minds in the world have suggested?
Get answers to all these questions and more by joining us for a free, informative and casual discussion with University of Toronto Professor, Sheila McIlraith, about the world of Artificial Intelligence. Her brief presentation will be followed by an extensive Q&A.
We look forward to seeing you.
Speaker: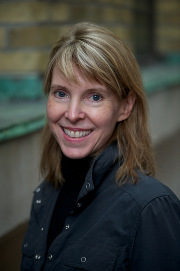 Sheila McIlraith joined the Department of Computer Science, University of Toronto late in 2003. Prior to joining U of T, Prof. McIlraith spent six years as a Research Scientist at Stanford University, and one year at Xerox PARC. McIlraith's research is in the area of Artificial Intelligence (AI) knowledge representation and automated reasoning. She has 10 years of industrial R&D experience developing AI applications. McIlraith is the author of over 100 scholarly publications. Read More
[Google self-driving car image source]
When & Where

Workhaus Market
100 Front Street East4th Floor
4th Floor
Toronto, ON M5A 1E1
Canada

Wednesday, December 14, 2016 from 7:00 PM to 9:00 PM (EST)
Add to my calendar