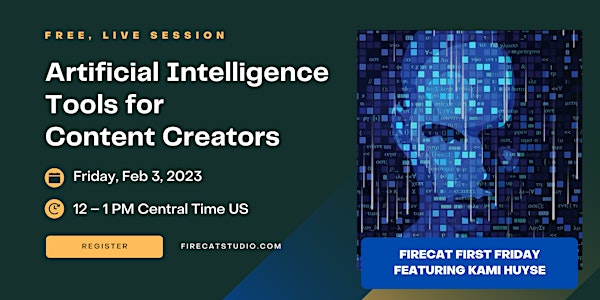 Artificial Intelligence Tools for Content Creators: What You Need to Know
AI is already integrated into many content creation tools — and it's OK! We can leverage AI to create better copy, images, and results.
About this event
Content creators are using Artificial Intelligence (AI) tools like ChatGPT, Dall-E, and AIVA to produce content. Does that mean we human content creators are being replaced? Not if we learn to harness their power!
You may already be using AI to create content. Popular tools like Canva and Hemingway use AI behind the scenes to help us improve copy and images.
In this session, we'll review some popular AI tools and get hands-on experience using them to generate options and improve content. We'll also discuss where our human abilities and sensibilities are still required to produce excellent results.
About the Presenter
Kami Huyse is an award-winning digital strategist, speaker and author. As founder and CEO of the strategic marketing and public relations agency Zoetica, Kami and her team have helped hundreds of organizations connect with their customers online, build community, and drive measurable business results.
Kami is a sought-after speaker and writer on social media measurement, influence, strategy and online civility. She wrote How to Use Social Media, Win Business and Find Influencers, contributes to Welcome to the Fifth Estate, and her advice is featured in the textbook Public Relations Writing: Form and Style.
The founder Social Media Breakfast of Houston (#SMBHOU), Kami is a prolific, generous content creator and teacher. She has appeared at SxSW, in Forbes, PRNews, and on Good Morning America. Follow Kami on Twitter @kamichat or find her at zoeticamedia.com.
About Firecat First Fridays
Firecat Studio sponsors free UX and marketing lunch-and-learn sessions to keep our clients, our team, and the UX/creative community stoked and humming with ideas and inspiration. If you're curious, register!
Firecat Studio Online Zoom Webinar (register to receive the info)
We'll start the session right at noon and wrap it by 1 pm. 
Download and test your Zoom before 12 Central Time (UTC - 5) so you're ready to rock! Please enable your camera to ensure you're able to interact with the group.
About Firecat Studio 
We are a User Experience (UX) strategy, design, and research agency in San Antonio, Texas. We help organizations produce products and services that people adopt and use, achieve accessibility and equity goals, and adopt modern tools and ways of working. Our experienced idea producers and workshop facilitators are ready to help you articulate your vision, clarify your strategy, align your team, and exceed your business goals.