Description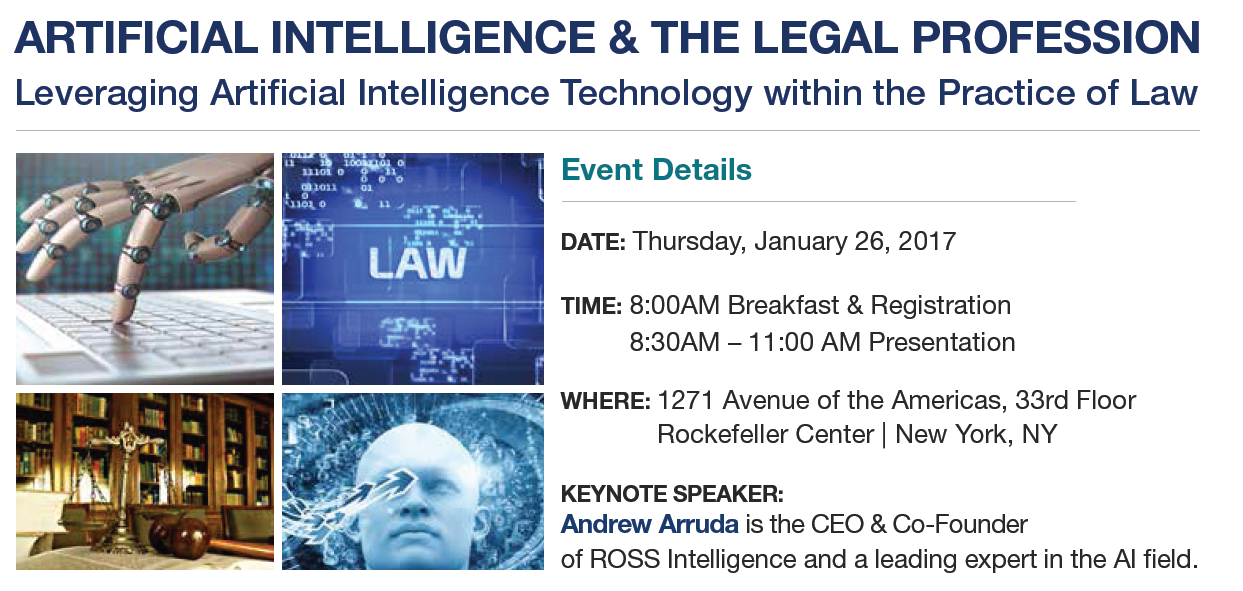 You are invited to join us for this timely and pertinent program on AI and its impact on the legal community. Our Keynote speaker is Andrew Arruda, CEO and Co-Founder of ROSS Intelligence, an artificially intelligent lawyer built on Watson, IBM's cognitive computer. Joining Mr. Arruda in a panel discussion wil be Dennis Garcia, Esq. from Microsoft's Corporate, External and Legal Affairs, Ann Gorr, Legal Technology Consultant and Matthew Blaine, Esq. from Davison, Eastman, Munoz, Lederman & Paone, PA.
Our speakers will address pressing topics including:
Identifying how AI is currently being used to streamline and improve the practice of law.

Preparing the legal community for pending changes resulting from the incorporation of AI processes within the law office environment.

Capitalizing on the benefits to law firms by becoming an early adopter of AI within the practice of law.

Recognizing the potential disruptions to the practice of law which will accompany the implementation of AI. Is there any truth to the speculation that AI will replace attorneys?

Learning how to incorporate AI processes into your Legal Technology Roadmap. Identifying the risks for those law firms and corporate legal departments who don't become early adopters of AI technology opportunities.

Proactively leveraging AI technology tools within the law firm/corporate legal department to meet the demands and expectations of clients.
Click here to download the full conference brochure
Click here to find out more about the Law Firm of the Future
Organizer of Artificial Intelligence & The Legal Profession
Cresa's Law Firm Practice Group is dedicated to helping law firms become the Law Firm of the Future by providing insight and consulting services that focus on a Law Firm's Strategies for its Business, Information Management, Design and Real Estate.
Cresa is the world's largest tenant-only commercial real estate firm, offering clients customized solutions worldwide through more than 60 global offices.
Click here to Learn more about Cresa's Law Firm Practice group