Artificial Intelligence & Machine Learning in Law
About this Event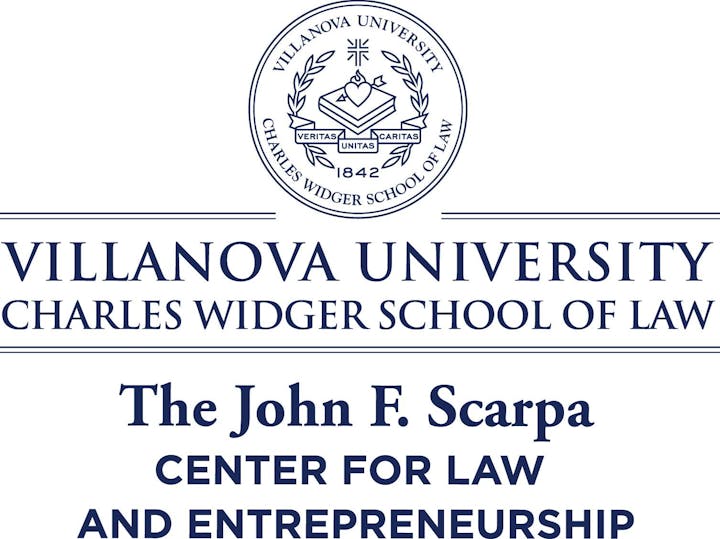 The event takes place on Thursday, October 3 from 3-8:30 p.m. in the Laurence E. Hirsch '71 Classroom (Room 101) at the Villanova University Charles Widger School of Law.
The program is approved for 3 substantive CLE credits.
Description
Artificial intelligence and machine learning are transforming the way all industries behave. Although law has been perhaps slower to adapt, these new technologies have become powerful disruptors in the legal profession that is traditionally labor-intensive. Lawyers can no longer effectively represent their clients by simply wading into data without the benefits AI and machine learning provide in areas ranging from data search and retrieval to legal reasoning to outcome prediction.
The John F. Scarpa Center for Law and Entrepreneurship in partnership with the Villanova School of Business, Center for Business Analytics presents "Disruption of Legal Services through Artificial Intelligence and Automation". Arup Das will present an interactive course introducing these technologies and describing:
(1) how artificial intelligence and data science are already transforming the practice of law, from mergers and acquisitions to eDiscovery to commercial contracts to criminal law;
(2) how analytics and technology services are forcing law firms to reevaluate their use of data and technology to differentiate themselves in an increasingly commoditized market for legal services; and
(3) practical considerations in collecting, storing, and leveraging data in the legal industry, with examples from criminal justice to commercial real estate.
Prior to Mr. Das' presentation, there will be an Introduction to Business Analytics, taught by Villanova School of Business faculty member, Dr Stephen Mahar, Professor, Management & Operations and Faculty Director, Master of Science in Analytics Program.
No prior knowledge of analytics, AI/Machine Learning is required.
The lecture will be followed by a panel of senior leaders at Philadelphia area law firms discussing the impact of AI and machine learning on their practices, including:
Linda Novosel
Chief Innovation & Value Officer
BLANKROME
Todd Corham
Chief Information Officer
SAUL EWING ARNSTEIN & LEHR LLP
Darren R. Guy
AIG
Head of Legal Operations – Global Legal, Compliance and Regulatory
Villanova University, Economics '93
Agenda:
2:45 p.m. — Registration
3:00-6:00 p.m. — CLE Lecture
6:00-7:00 p.m. — Panel Discussion
7:00-8:00 p.m. — Reception (Arthur M. Goldberg '66 Commons)
About the Facilitator:
Arup Das is the Chief Executive Officer & Chief Technology Officer of New York-based Alphaserve Technologies. Alphaserve Technologies is a Digital Advisory & Managed Services provider to Financial (Asset Management), Professional Services (Law, Corporate Law, Accounting) and Global multi-nationals. Alphaserve Technologies is one of the fastest growing companies for the past four years as rated by Inc. 5000. Alphaserve has grown organically from 26 people to over 350+ with offices in US, Europe and South Asia.
Mr. Das is 2016 graduate from the Villanova School of Business Masters in Business Analytics program and was recognized as the 2018 Innovative Thought Leader of the year by International Legal Technology Association.
Parking for this Event is FREE
*Program registrants who are unable to afford continuing legal course registration fees due to financial hardship may petition for registration fee waivers or discounted program fees. A petition for a reduced fee shall be filed at the same time the attorney pre-registers for the program, and states why the normal fee associated with the program causes the lawyer a financial hardship. The petition must be signed by the lawyer. The Law School's CLE coordinator may waive or reduce the fee for the CLE program at his/her discretion.