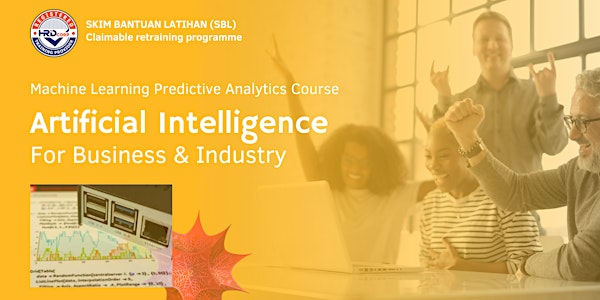 Artificial Intelligence For Business & Industry (HRDCorp Claimable)
Artificial Intelligent Machine Learning Predictive Analytics Made Simple for Business & Industry
About this event
Ten (10) modules delivered in 8 days, fully claimable under HRDCorp SBL
Participants will learn the fundamentals of data analytics and predictions with machine learning technologies, using classical examples and live data stored in Excel/CSV/Google Sheet. Practical applications will be use in the class, such as business trend predictions, customer loyalty analytics, sales forecast, pricing estimation, preventive maintenance, breakdown prediction, quality prediction, and process optimization, etc.
Participants will be introduced to the data science as well as the basic workflow for handling machine learning projects. The course is suitable for executives who handle data analytics from the sectors like production, engineering, logistics, marketing, as well as banking & insurance services.
No background in data science and machine learning is required for this training. A basic high-school level of understanding in statistics, mathematics, and basic programming logic is already sufficient.
Some essential mathematical and theoretical aspects of machine learning will be discussed in this workshop.
(course details could be download here )
REMARK: Registering via Eventbrite is merely indicating your interest to know more about this program. Leave your info here https://bit.ly/PenjanaMLFORM02 , and we will send you the required info to process with HRDCorp SBL claim application.
32 HOURS DELIVERED IN 8 DAYS, DAILY 2PM-6PM
03 Oct 22 (Mon) 200PM-600PM
04 Oct 22 (Tue) 200PM-600PM
05 Oct 22 (Wed) 200PM-600PM
06 Oct 22 (Thu) 200PM-600PM
10 Oct 22 (Mon) 200PM-600PM
11 Oct 22 (Tue) 200PM-600PM
12 Oct 22 (Wed) 200PM-600PM
13 Oct 22 (Thu) 200PM-600PM
*The dates above may be subjected to change.
For more details, please email to info@oemscorp.com or WhatsApp to +6011-3577 1840
Reviews
"It was informative and worthwhile even for a total beginner like me. The tutorials were engaging and the templates at the end are definitely useful. Can't wait to try them out in my researches" Afiqah, USM Researcher
"It has allowed me to apply the knowledge onto data handling in my research work, which is rather huge and repetitive, thus saving me days or weeks of work." Simpson Tan, UM Researcher
"It makes me understand the basic concepts of machine learning in just a few days." Rex Leong, MacroBase System
"It has given me an insight that running a project with machine learning shouldn't be a tough task...it melted down my fears in A.I." Julius, USM Researcher
"This course is very useful for us to cope with changes that are happening all over the world. It's very interesting, and not so difficult. " Dr. Amir Syahir, UPM Researcher
"I enjoyed the class a lot. I get to asked and practiced with many case studies. It really helped me as a beginner with zero knowledge in coding or machine learning." Michelle, Dyno Klang Fire Protection Engineering
"It is useful for beginners as well as for intermediate users. Tools are easy to use and helpful in analysis for the IR4.0. " Dr. Mohd Khairul Faidzi, UKM
"I would recommend this workshop to others because machine learning is very important nowadays & Wolfram provides it." Dr. Ahmad Afif, UMP Researcher
"I would recommend this workshop to others because it is very useful and interesting!" Dr. Izamarlina Asshaari, UKM
"The course is more comprehensive compare with another learning center." Muhamad Azri
"Yes, I would recommend it to my friends because of how it is so easy to understand the software!", Dr. Luqman Al-Hakeem Bin Abdul Ilah, UKM
"It is useful and fundamental to learn more about data analysis and many things in data science and IR4.0", Nor Sofiah Ahmad, UM
"Trainer is well ready, the explanation is clear and full of example". Mun SK, Director Of Software Development, TeamCloud
"Yes, I would recommend this workshop to others! because it is well organized and easy to follow. They also provide learning materials and videos for take-home/offline learning." Noorhelyna, UKM
"Practical Activity and immediate Result!" Mohd Husaini, Sigma Wealth
"Yes, I would recommend this workshop to others! because I have learned so many things in this course." Dr Nuryazmin, UKM
"It is very practical and almost immediately applicable. The course is absolutely worth the money paid!" Anbalagan, USM
"Good program, very well structured and suitable for beginners and intermediate level", Dr.Nik Fadzly, USM
"This course is worth for our time!" Dr Haliza, UKM
"This crash course is worthy and even more, would recommend anyone to come and join in", Yap SL, APU
"It helps me to better understand machine learning in a simpler way with the help of real applications and practices", Dr. Zetty Ain, UMP
"An excellent crash course. The trainer is an expert. I will recommend it to my colleagues and students definitely." Azmin , UKM
"It introduced me to something new and helped me to improve my understanding of machine learning." Chin YT, Sunway U
"Clear explanation by instructors!" Mhd Zhafran, UM