Artificial Intelligence (AI) Teen Code Camp 2019
About this Event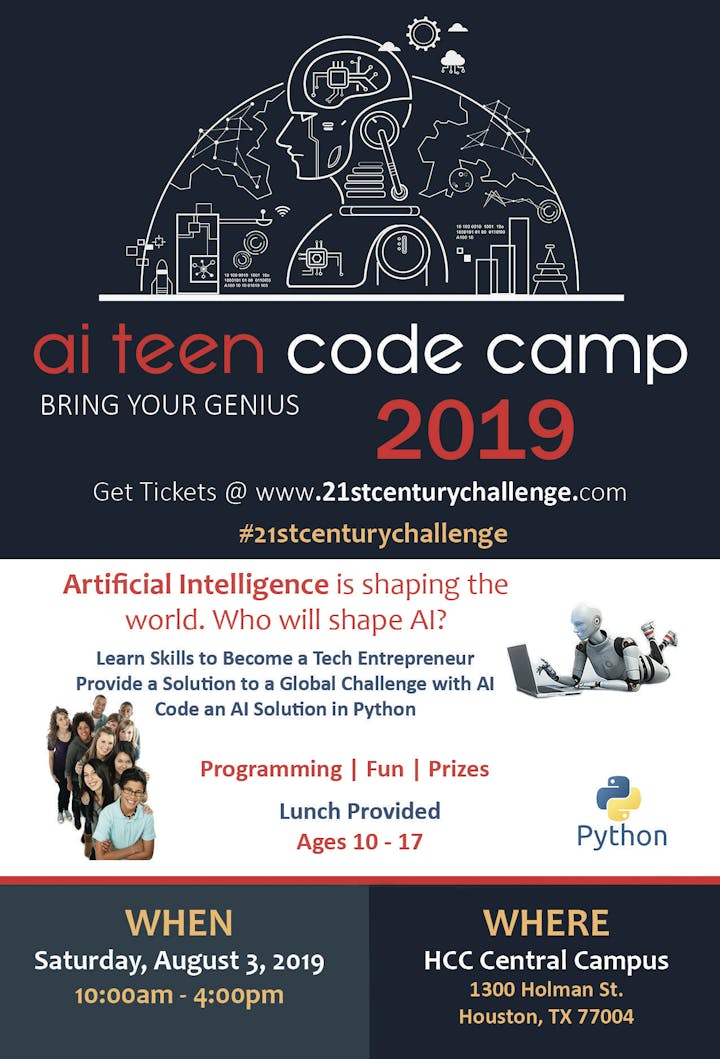 Let's build the skills necessary to be at the forefront of technology. This workshop is for children age 10-17. No prior computing experience is necessary.
WHAT WILL STUDENTS LEARN IN THIS AMAZING DAY CAMP?
In this day camp, participants will work in a team setting to come up with potential AI solutions to address existing world issues.
Introduction to Artificial Intelligence (AI) - Students will be introduced to AI and presented with various case studies where AI is currently being used in our world.
The workshop will teach design thinking strategy and business model development, ethics, social responsibility and pitching skills.
Introduction to Python Program Language - Students will develop an AI solution utilizing Python.
*** Lunch will be provided. ***
REGISTRATION
IMPORTANT: Please complete the form linked below and bring signed copy to the event.
General Release of Liability and Photo/Video Consent Form
VOLUNTEER WITH US
Consider partnering your gifts and talents with us to change communities through trans-formative educational training.
WHAT IS AI?
Artificial intelligence (AI) makes it possible for machines to learn from experience, adjust to new inputs and perform human-like tasks.
WHY LEARN ABOUT AI?
The future is here. Artificial Intelligence is beginning to define our lives. From driver free cars to voice recognition devices like Siri and Alexa.
AI is instrumental in solving issues in the medical industry, bank and financial systems, forest and wildlife, manufacturing, air transport and the list goes on.