Description
Looking to boost your creative business?
This nuts and bolts, hands-on workshop will show you how to create your path to success. Award-winning entrepreneur and best-selling author Minette Riordan will guide you through a step-by-step creative process of proven strategies that will reveal how to boost your business and reach your financial goals. Who knew the business side of your creativity could be so much fun!
Saturday, June 24, 10am–5pm + Sunday, June 25, 10am–2pm
Artful Marketing for Creatives is a 1.5-day transformational workshop designed with you, the creative, in mind. It's perfect for you if are an artist, designer, freelancer, or creative business owner who is committed to growing your income and your impact doing work that you love.
Learn the five mindset, money, and marketing strategies you need to build your creative business.
What you'll discover:
Five mindset challenges that keep creatives stuck;
How your relationship with money is impacting your bottom line;
Why your marketing plan is the key to building your business;
How to create a marketing calendar that is easy to implement in just 30-minutes a day;
How to get more done in less time; and
The business side of your creativity is more fun than you ever expected!
This workshop is for you if you are...
Looking to generate cash and clients but don't know what to try next because you feel like you've tried everything;

Stuck in your business;
Blessed with great creative ideas and skills but you can't seem to convert the into financial success;
Overwhelmed, overworked, and overtired from trying to build your business yourself;
Wanting to get to the next level of success in your business but have no clue how you will find the time or what steps to take; and
Looking for a fun way to feel more creative, connected, and excited about your business again.
Meet Minette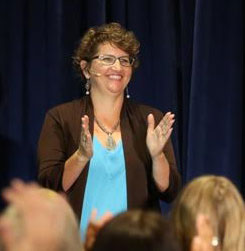 Award-winning entrepreneur and best-selling author of The Artful Marketer: The Fundamental Business Guide for Creative Entrepreneurs, Dr. Minette Riordan empowers creative entrepreneurs and small business owners to break through barriers, exceed their financial goals, and bring more creative play into their business. She successfully built a multi-media publishing company, turning a small quarterly newspaper into a monthly magazine with a circulation of 50,000 copies and loves teaching other business owners how to avoid getting burned out or overwhelmed by fear.
---
Sponsored by