Event Information
Refund policy
Contact the organizer to request a refund.
Eventbrite's fee is nonrefundable.
Let Artful Circle take you on a virtual art history lesson to learn about the art world at the time of the Nazis and the aftermath.
About this event
Join Franklin and Debbie for an art history live and interactive webinar series sure to entertain...Surrender on Demand! That was the chilling declaration by the suddenly empowered Nazi captors of Vichy France, which had been up to that point at least a tenuous refuge for those fleeing their oppressors.
At least two heroic ivy educated Americans, Varian Fry and Hiram Bingham, with high-level state department connections, agreed to a covert rescue mission, largely in violation of official policy. An ardent, anti-Nazi, Fry said, "I could not remain idle as long as I had any chances at all of saving even a few of its intended victims."
Through the support of First Lady Eleanor Roosevelt, the Emergency Rescue Committee provided funding, to rescue a list of about a thousand artists, intellectuals, and like cultural figures deemed endangered. Among these was a group that included the most significant modern artists and art personalities in Europe: Marc Chagall, Max Ernst, Alma Mahler Gropius Werfel, Jacques Lipchitz, Marcel Duchamp, Jean Arp, Harrah Arendt, André Breton, Roberto Matta, and Wifredo Lam.
This series is 5 sessions - $195
Thursdays at 11am - Jan 13, Jan 27, Feb 10, Feb 24 & March 10
If you are unable to make your designated date, request a replay recording or contact us to reschedule to the other session that week at debbie@artfulcircle.com. No matter what, you will never miss a session!
Session 1 - The lay of the land, Free France, Vichy, Occupied France; complicity with the Nazis; Fry, Bingham and the American Rescue Committee; Artists attempt to resist Hitler.
Session 2 - The artist victims, targets of the Nazis: Degenerate art, politics, Jewish identity; the Surrealists gather at "Visa-Hope" a.k.a. Villa Air Bel in Marseilles; Artists in hiding: Beckmann, Mondrian, Miro, Kandinsky; Exiles to Switzerland and Britain: Klee and Kokoschka. Death of Soutine.
Session 3 - Successful Rescue (or not): Routes to safety, Spain, Portugal, Caribbean, China, etc. Peggy Guggenheim and Max Ernst, Chagall and the tragedy of Walter Benjamin. Those who leave, those who stay: Miró, Matisse, Picasso.
Session 4 - The Surrealists in NY: Artists in Exile, Pierre Matisse Gallery (Leger, Tanguy, Mondrian, Lipchitz); Peggy Guggenheim's Art of this Century Gallery; the Surrealist show at Whitelaw Reid Mansion (Villard Houses); Julian Levy in Connecticut; Leger and Ernst on Long Island. Kurt Seligman teaches Motherwell automatism; Salvador Dali in NY.
Session 5 - Aftermath: The exiles' impact on Jackson Pollock; Peggy Guggenheim in Venice; MOMA and the Guggenheim; the later lives of Fry and Bingham; Surrealists in America; Art exiles return to Europe; Chagall in the South of France; Fondation Maeght.
HOW TO LOG ON
· Eventbrite is NOT where you go to watch the event! Eventbrite is for payment only. The program we use for our webinars is Livestorm, which is similar, but different from Zoom.
· You will get a confirmation email AND a reminder the day before AND one hour before each session. Every email has the same personalized link needed to access the webinar. All you have to do is CLICK the "ACCESS WEBINAR" BLUE BUTTON at the bottom and you are in! No codes, passwords, meeting IDs – just click to access! The links are specific to your email, so you cannot share access to the presentations.
· The link serves as your "virtual ticket" If you misplace the email, contact Debbie by phone or email (516-819-2240 or debbie@artfulcircle.com) and she can resend the link. Again, check in advance, because once we are "on the air", we cannot help you.
ATTENDING THE SESSION
· Start the session 15 minutes before to make sure there are no tech issues.
· You will see an empty stage until the starting time. Once we begin, you can see the speaker and the presentation, but we cannot see you.
· Use the CHAT window during the session to introduce yourself (include the city you are from) and throughout the lecture, you are welcome to type your questions and comments at the bottom where it reads "Say something nice." If you want to hide CHAT, click on the arrow (next to the bell to the left of the chat window.
· Use double arrows button to see in FULL SCREEN. To find the arrows, hover over the lecture image.
TECH SUPPORT
· We recommend using a home computer or laptop (Chrome browser preferred)
· You can text Debbie at 516-819-2240 for tech help in advance only. Once we are "on the air", we cannot assist you. Do not call or text less than 15 minutes before or during the session.
· If you are having audio or video tech issues, there is a HELP button at the bottom left of the screen. You will get a short checklist of steps to try on your own.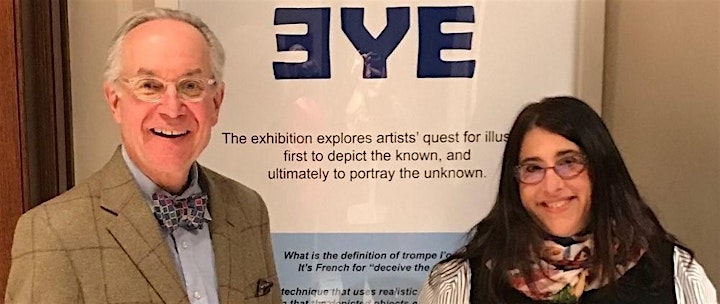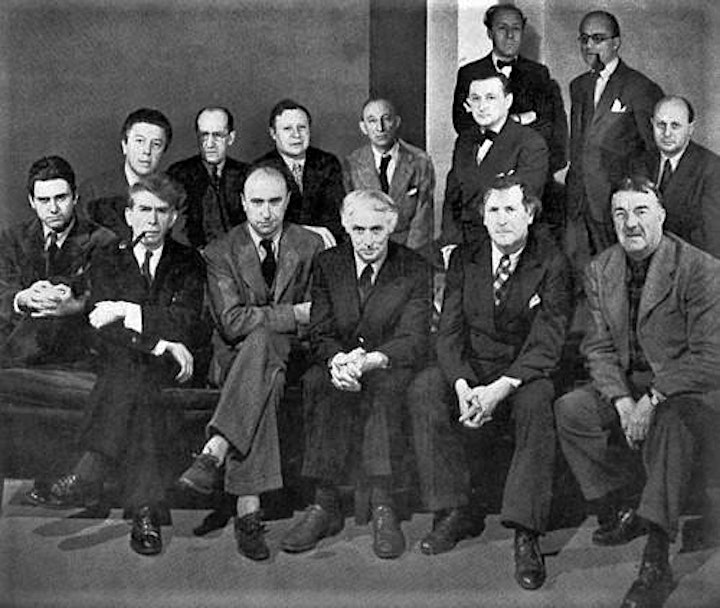 Date and time
Location
Refund policy
Contact the organizer to request a refund.
Eventbrite's fee is nonrefundable.
Organizer of Artful Circle Art History: Winter 2022 - Surrender on Demand!