Description
United Latino Professionals Social Network Community and
IMPACTO Latin News is proud to present a first of its kind artistic photography exhibit in the United States.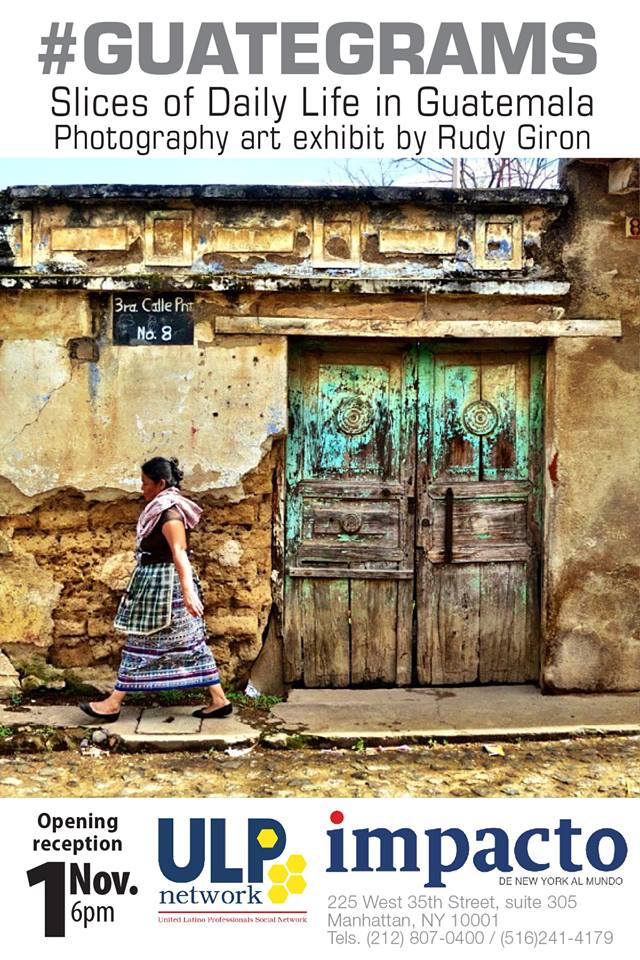 #Guategrams is a collection of artistic photography by expat Guatemalan American Rudy Girón who grew up in the United States but as a young adult decided to return to Guatemala and live there for the rest of his life. Residing now in the beautiful ancient city of Antigua, Guatemala he has chronicled the daily life of Guatemala people, culture, architecture, and panorama. His photography and blog AntiguaDailyPhoto is now known all over the world as he is followed by lovers of the country, photography and culture other artists, travelers and photographers alike.

All photography art pieces on display will be on sale at a special discount for ULP Network members.

This exquisite exhibit is now brought to the asphalt jungle for you to enjoy. More details to follow.

Wine and cheese reception
Organizer of ArteULP™ Presents: #Guategrams Slices of Daily Life in Guatemala
United Latino Professionals is a Networking organization that provides opportunities for professionals in all fields to connect, continue to engage, and develop strong professional, business and social relationships. We celebrate diversity and multiculturalism. All professionals are welcome!