ArteRotica|C.U.M. Season V Finale

Multiple Dates
Event Details
Welcome to the world of ArteRotica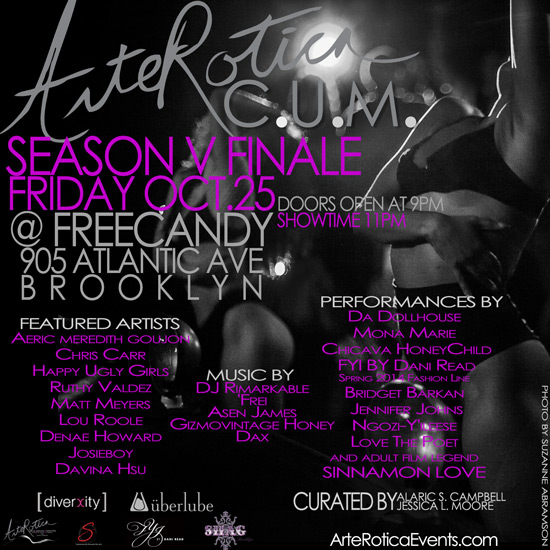 ArteRotica + Free Candy = C.U.M, the Season Finale
Friday, October 25, 2013 | 9pm – 3am
Free Candy
905 ATLANTIC AVE 
BROOKLYN
Performances by
Da Dollhouse
Mona Marie
Chicava HoneyChild
FYI BY Dani Read Spring 2014 Fashion Line
Bridget Barkan
Jennifer Johns
Ngozi-Y'ileese
Love The Poet
and adult film legend
SINNAMON LOVE
Featured Artists
Aeric Meredith Goujon
Chris Carr
Happy Ugly Girls
Ruthy Valdez
Matt Meyers
Lou Roole
Denae Howard
Josieboy
Davina Hsu
Music by
DJ Rimarkable
'Frei
Asen James
Gizmovintage Honey
DJ Dax

Friday, October 25 is ArteRotica : C.U.M, the Season Finale of this six part series. Did you miss Attraction? Did you not make it to Penetration? Well, ArteRotica, a multi-media, visual and performance arts event series, is giving you one last opportunity to cum and indulge yourself. Sybarite Productions and Producer Alaric Campbell bid a sad farewell to ArteRotica's Brooklyn boudoir The Red Lotus Room as that event space closes its doors for good. However, sometimes parting can be sweet sorrow as Free Candy will become the house of tricks for ArteRotica's Season Finale, C.U.M.
ArteRoTica is a Seasonal (May-Oct), monthly event  which exhibits carefully chosen artists whose art represents various forms and expressions of eroticism. The event features erotic displays of art – from photography to fine art and performance art. Additionally, our DJs curate a soundscape that supports the vision of ArteRotica so that you can get your dance on as well.
Secure your spot to be a part of the unique AMBIANCE of ArteRotica - guaranteed to stimulate your mind, body and soul.
For more info www.ArteRoticEvents.com
ArteRotica|C.U.M. Season V Finale