Ar7seven inicia su Gira Internacional 2021 con todo su Colectivo de Artistas Latinoamericanos
About this event
El Instituto de Cultura Hispana de Houston junto a Ar7seven presentan Arte Vivo, Exposición Colectiva de Artistas Latinoamericanos integrada por Vicky Barona , Dora Luz Delgado, María Claudia Saavedra, Reina León, Katya Du Pond, David Triano, Alfonso Bonilla, Carlos Bolaños, José Luis Pantoja, Eibar Castillo, Yoandy Suárez, Patricia Amaya, López de la Ossa & Nadra Jacob.
La selección de obra a cargo de Curadora Patricia Rojas Barbosa (Colombia) reúne el trabajo reciente de estos destacados artistas latinoamericanos. En la selección de obras cuyo hilo conductor es la vitalidad incluye fotografías y pinturas que destacan la figuración y la expresión.
La exhibición se podrá visitar los días jueves y viernes de 5:00 a 7:00 PM y los sábados y domingos de 2:00 a 4:00 PM. Exclusivamente con previa reserva. Agenda una cita ahora: https://arte-vivo.eventbrite.com
La ceremonia de inauguración se realiza el día viernes 7 de mayo a las 7:00 PM en el Instituto de Cultura Hispana de Houston localizado en 3315 Sul Ross St., Houston, TX 77098. Exclusivamente con reserva previa.
Realiza tu reserva ahora: https://arte-vivo.eventbrite.com
Se celebrarán dos conversatorios:
Transformación a cargo de la artista Katya Du Pond
Jueves 14 de mayo a las 7:00 PM
Reserva un cupo ahora: https://conversatorio-katya-dupond.eventbrite.com
Paréntesis a cargo de la artista Vicky Barona
Jueves 21 de mayo a las 7:00 PM
Reserva un cupo ahora: https://conversatorio-vicky-barona.eventbrite.com
Todos los eventos son gratuitos y abiertos al público pero se recomienda realizar una reserva previa para asegurar su participación.
Para más información envía un mensaje a info@ar7seven.com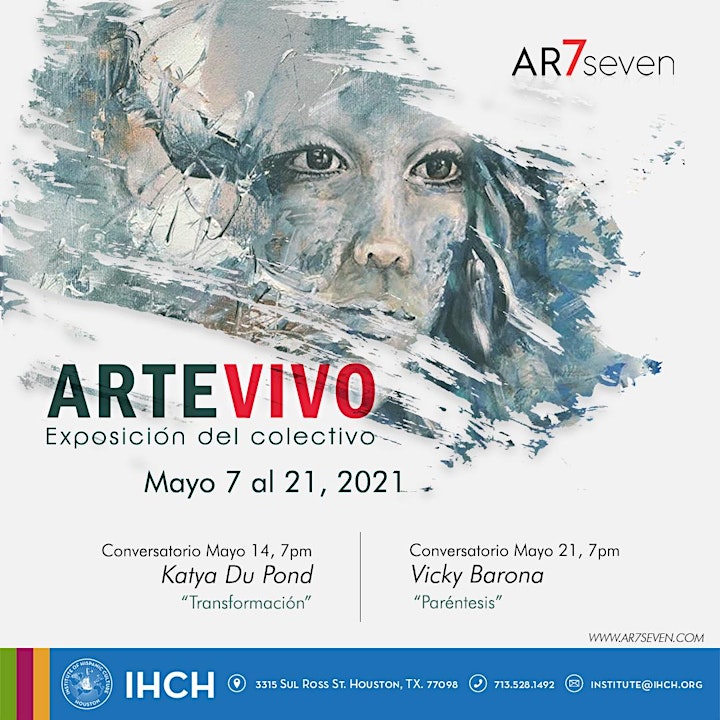 AYÚDENOS Y RESPETE LAS SIGUIENTES PAUTAS PARA PODER CONTINUAR CON NUESTRAS ACTIVIDADES:
Únicamente se permite el ingreso de personas con reserva previa.
Limítese a las áreas designadas para sentarse para apoyar el distanciamiento social.
Por favor, no asista si presenta síntomas.
Visitas dentro del edificio deben usar mascarilla facial/cubrebocas.
Procedimiento de verificación de temperatura.
Mantenga un distanciamiento social adecuado en todo momento y tome precauciones.
Se deben cumplir todas las instrucciones del personal del IHCH.
El IHCH sigue la guía del CDC sobre el tamaño recomendado de las reuniones sociales.
Mantente informado, síguenos en redes @IHCHouston
GUIDELINES IN ORDER THAT WE CONTINUE OUR ACTIVITIES:
Entry allowed only for people with prior reservation.
Do not bring chairs or other furniture; Chairs will be provided.
Limited designated seating areas to support social distancing.
Please do not attend if you have symptoms.
Visitors should wear a face covering/face mask inside the building.
Temperature Check Procedure.
Maintain adequate social distance at all times and take precautions.
All instructions from IHCH staff must be followed.
The IHCH follows CDC guidance on the recommended size of social gatherings.
Stay tuned @IHCHouston
The Institute of Hispanic Culture of Houston (IHCH) is a 501(c)(3) Non-Profit organization, founded in 1965 by a group of professionals living in Houston interested in preserving, enhancing and promulgating the Hispanic culture and language inherited from Spain and Latin America. The IHCH mission is to disseminate and preserve the rich Hispanic culture, and to highlight the historical, linguistic, scientific, and artistic achievements of Hispanics or Latin-Americans, particularly Hispanics and Latin-Americans residing in Houston, Texas.