Description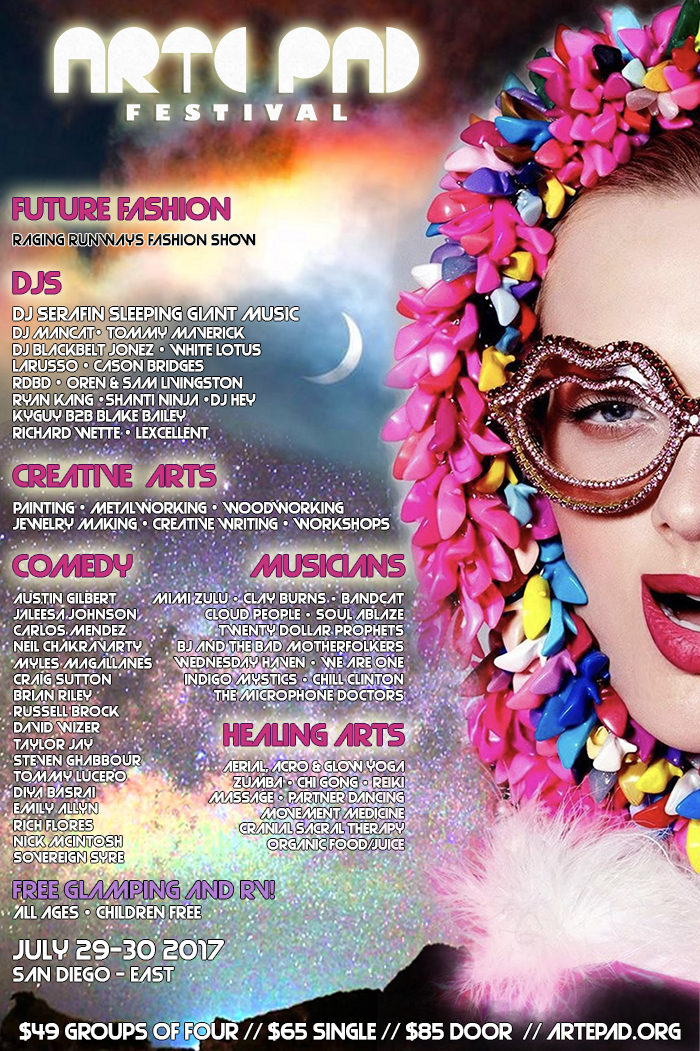 Arte Pad Festival is being held Sat and Sun July 29-30 on a 300 acre private mountain-side property in Jamul (30 minutes from downtown SD).
The festival is a fusion of DJ's and musicians, creative and healing arts, a festival fashion show, performance art, and beer garden with comedians! It is an all inclusive, all ages event and even includes FREE camping on the property for tents and RV's!
Musicians and DJ highlights: International DJ Serafin of Sleeping Giant Music is headlining the show on Saturday night bringing dance, electronic, and hip hop mixes. San Diego's Favorite DJ Mancat (resident DJ at Belly Up) and his brainchild Bandcat are spinning your favorite DJ hits mixed with live band on drums, guitar, and vocals!
Musician highlights: Mimi Zulu and Chill Clinton from House of Blues bringing electric soul fusion as well as Verdell of Soul Ablaze bringing soul, reggae funk. Lots of variety include pop, hip hop, world fusion music, soul sound healing, and reggae.
Creative Arts: Provides tools and supplies to paint, do metalworking, woodworking, and make jewelry with workshops collaborating with other artists.
Healing Arts: Yoga, Glow Yoga with Body Painting, Acro Yoga (Partner Yoga), Aerial Yoga, Reiki, Massage, Energy Healing, Cranial Sacral Therapy, Zumba, Chi Gong, and more!
Workshops: Writing, jewelry making, Goddess Workshop (self empowerment, confidence building for the lovely ladies), Alchemy Of The Eternal Lover, Couples Dancing, and more!
Beer Garden will feature 15 + local San Diego comedians on both Saturday and Sunday.
Festival Fashion Show will feature models and designers from San Diego and Los Angeles showcasing swimsuits, jewelry festival attire, glowing creations, jackets, and accessories. Aerial performances will be going on during the fashion show! All designers will be vending at the event as well as other local artisans.
~~~~~~~~~~~~~~~~~~~~~~~~~~~~~~~~~~~~~~~~~~~~~
All proceeds from the Festival benefit the 24 Hr Arte Pad in San Diego, a 24 hr fitness for artists. Arte Pad houses the tools, resources and supplies for all kinds of arts, crafts, sewing, fashion design, welding, woodworking, music, healing arts and more! Every art form you can imagine is there! It's like our your own artist mansion/party pad open 24 hours a day in San Diego. A way for artists to create and collaborate together and an alternative way to party without going to the club!