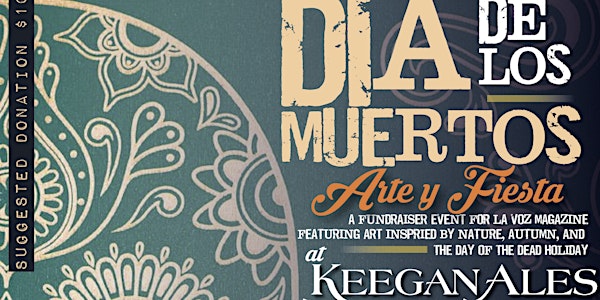 Arte de Día de Muertos en Keegan Ales / Keegan Ales art opening
When and where
Location
Keegan Ales 20 Saint James Street Kingston, NY 12401
Description
(Scroll down for English)
Exhibición y venta de arte en Keegan Ales con obras de artistas Alex Baer, Inés Chapela, Rick Jones, Miki Flores-Amper, Annie O'Neill, Antonio Flores Lobos y Yuexin Ma; música por Elias Krell y DJ Manuel Blas; espectáculo de danza del grupo folclórico de Poughkeepsie. Menú de comida mexicana y cerveza otoñal a la venta por Keegan Ales. La apertura de recepción será el domingo 28 de octubre de 3 a 6pm. Donación sugerida de $10. La exposición tendrá una duración de un mes.
Ingresos de este evento beneficiarán a La Voz, la multi-premiada revista gratuita en español al servicio de los 140 mil hispanos que viven en el Valle de Hudson (condados de Dutchess, Ulster, Orange, Columbia y Sullivan). Lavoz.bard.edu
¿Le interesa patrocinar el evento? Contacte a Inés para más información: ichapela@bard.edu o 845-752-4739
***
ENGLISH: A month-long art exhibit and art sale at Keegan Ales featuring work by artists Alex Baer, Rick Jones, Inés Chapela, Miki Flores-Amper, Annie O'Neill, Antonio Flores Lobos, and Yuexin Ma.
Opening reception Sunday, October 28th, 3 to 6pm with a dance performance by Grupo Folclórico de Poughkeepsie and music by Elias Krell and DJ Manuel Blas. Suggested donation $10. Seasonal refreshments and goodies by local purveyors. Mexican food menu as well as classic and seasonal beer for sale by Keegan Ales.
Proceeds from all events will benefit La Voz magazine, Bard's Spanish language publication covering Hispanic culture and news for the more than 140,000 Latinos living in the Hudson Valley and Catskill regions (Dutchess, Ulster, Orange, Columbia and Sullivan counties). lavoz.bard.edu
Want to sponsor the event? Contact ichapela@bard.edu or call 845-752-4739 for more information