Fire & Soul: 100 Years of Harlem Art Exhibition The End Of The Year Art Exhibit Celebrating the Centennial of Arts and Culture in Harlem
About this Event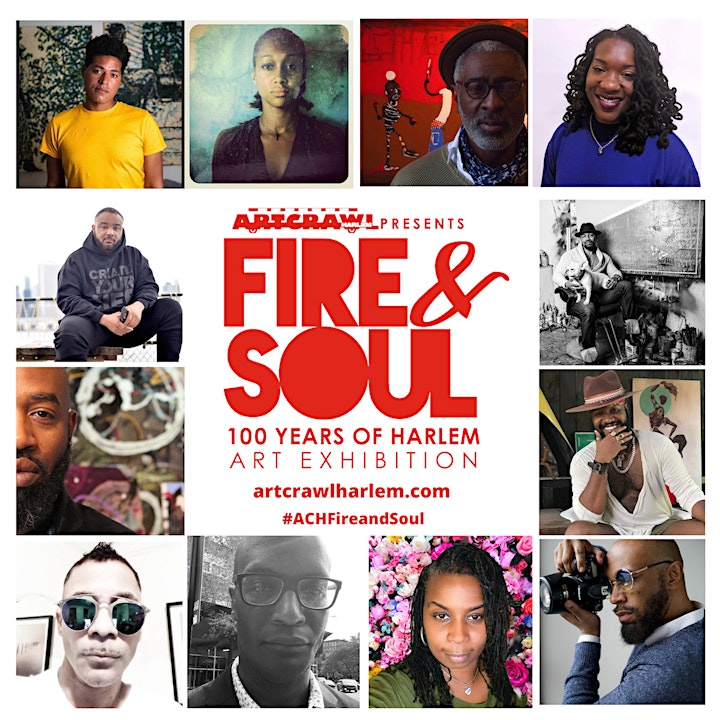 As during the Harlem Renaissance, artists today have picked up the mantle to influence the direction of arts and culture on an international landscape.  The 4 – week long exhibit explores the varying identities and impact of Black people as it has intersected America culture, from The Great Migration to immigration, music, sexuality and gender identity, politics, religion, public health, education, the COVID-19 pandemic, the pursuit of freedom and everyday life. Ulysses Williams, ArtCrawl Harlem Executive Director says "The celebration of Harlem arts and culture is always a necessary endeavor. Our communities cannot exist without artists at work in the process of creating work that reminds us, causes us to dream and inspires us to be better. This exhibition will feature the best and brightest artist in the NY area."
Gallery Hours:
2pm to 8pm Wednesday- Friday
12pm to 8pm - Saturday & Sunday
Closed Monday-Tuesday
The exhibit' intention is to envelope the viewer with the hopes of awakening the senses to history and modern day hopes and dreams. ArtCrawl Harlem will exhibit a diverse roster of artists across different mediums, each united by the fact that Harlem has played a significant role in their artistic practice. Thus, the works presented will reference the past, speak to the present, and boldly look to the future of the Harlem community.  Thus, the works presented will reference the past, speak to the present, and boldly look to the future of the Harlem community.  Out of 46 impressive applicants, co- curators Nakia Hicks and Dodji Gbedemah selected 20 artists for the group exhibit. Contemporary artists with a myriad of creative styles with concentration in Painting, collage, photography, sculpture, digital art, quilting, architecture, design and portraiture, and pop art.  An impressive roster of artists will be installed at Kente Royal Gallery, they include; Mario Joyce Belyusar, Sade Boyewa El (Photographer), Anthony Boone, (Painter), Karim Chambers, Rudy Collins, Daryl Myntia Daniels (Painter), William Daniels (Quilter), Ricky Day (Painter, Photographer and filmmaker), Demarcus McGaughey (Painter), Mark Anthony McLeod, Thomas Heath (Painter and Harlem based gallery owner), Amber Lodman (Painter), Taeesha M. AKA Sophisticatedcookie (Painter), Guy Stanley Philoche (Painter), Khalid Sabree,  Sean Patrick Watters (Photographer) and Dominick Williams.
 Social distancing and wearing a mask at all times when visiting the museum is requested.
Please RSVP on Saturdays & Sundays HERE. ArtCrawl Harlem Fire & Soul: 100 Years of Harlem is made possible in part with funds from the Lower Manhattan Cultural Council (LMCC),Upper Manhattan Empowerment Zone (UMEZ), New York City Dept Cultural Affairs (DCA) and New York State Council on the Arts (NYSCA).
For more information, visit: http://www.artcrawlharlem.com/fire-soul-2020-art-exhibit