Description
Join us on April 20 & 21, 2017 for ArtChangeUS REMAP: Richmond in partnership with Alternate ROOTS and ART 180. ArtChangeUS REMAP: Richmond will bring together activists, artists and changemakers at the University of Richmond Downtown. In conjunction with ROOTS Weekend-Richmond: Creating a World Without Prisons (April 20-23), the convening will elevate ideas, voices, and collective action taking place nationally addressing the systems of youth and adult incarceration, and immigrant detention.
ArtChangeUS REMAP: Richmond
Thursday, April 20: Join us for a community lunch followed a welcome and overview by Carlton Turner, Executive Director of Alternate ROOTS and Roberta Uno, Director of ArtChangeUS, followed by a call given by national organizer and writer Tia Oso and Pecha Kucha responses by poet and musician Kondwani Fidel, poet, cultural strategist and organizer Sonia Guiñansaca, artist and activist Ashley Hunt, film director Tani Ikeda, historian Kyle T. Mays, visual artist Paul Rucker, and performances by Keith Wallace and Suheir Hammad.
Registration opens at 11am, Community Lunch begins at 12pm, and Program from 1-4pm.
Friday, April 21: ArtChangeUS will launch the first morning of ROOTS Weekend-Richmond with a roundtable on policy and advocacy led by artist and organizer Kai Barrow in conversation with organizer with immigration justice group ICE Out of RVA Danny Cendejas, Nis'to Incorporate founder Dustina Gill, Deputy Director of Art 180 Trey Hartt, and Co-Executive Director of the Highland Center Ash-Lee Woodard Henderson. Moderated by cultural strategist Jessica Solomon.
Registration for ROOTS Weekend includes this session.
Special performances by Climbing PoeTree as well as Truthworker Theatre Company, Teens With A Purpose and The Graduates at the historic Hippodrome Theater.

Registration for ROOTS Weekend includes this session.
ArtChangeUS REMAP: Richmond Registration
Free registration includes all events April 20: ArtChangeUS + Alternate ROOTS community lunch and attendance to ArtChangeUS REMAP: Richmond convening.
A separate registration to ROOTS Weekend-Richmond is required for April 21-23. Alternate ROOTS offers sliding scale registration, from $25-$200. Registration will also be available on site. If you have questions, or need financial support regarding ticketing, please contact Paige Heurtin at paige@alternateroots.org or 404-577-1079. For more information and registration for ROOTS Weekend-Richmond, please visit ROOTS Weekend-Richmond registration page and Alternate ROOTS.
If you'd like to volunteer at ArtChangeUS REMAP: Richmond please contact info@ArtChangeUS.com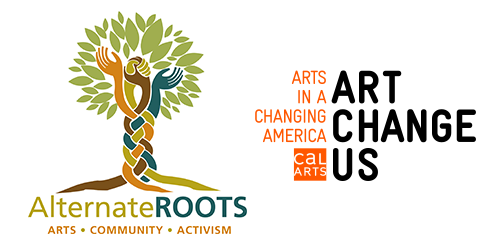 ArtChangeUS REMAP: Richmond is supported by Ford Foundation, the Hewlett Foundation, the Doris Duke Charitable Foundation, and the Silicon Valley Community Foundation.