Artaud Forum 2

Friday, 30 March 2012 at 20:00

-

Sunday, 1 April 2012 at 17:00 (BST)
Event Details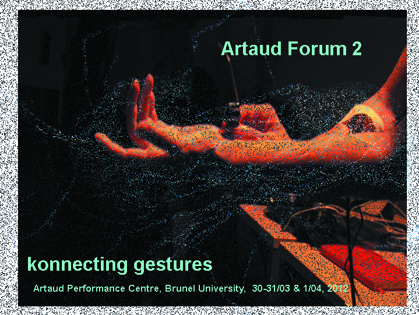 ARTAUD FORUM 2:
Konnecting Gestures
International Conference-Workshop on Performance and Sound Technologies
---------------------------
Friday March 30 - Sunday, April 1, 2012 
A two-day conference and performance laboratory
held at the Antonin Artaud Performance Centre
Brunel University, Uxbridge, West London (UK)
http://people.brunel.ac.uk/dap/artaudforum.html
This symposium and performance laboratory is the second installment of the series of annually held research events at Brunel University's Antonin Artaud Performance Centre, bringing together an invited group of international theatre, performance and sound artists, musicians, digital artists, art theorists and researchers engaged in creative practices that reflect on major innovative performance traditions of the past century and their impact on current performance knowledge and physical (or physical-digital) techniques.
The ARTAUD FORUM promotes opening up the concept of performance research, and continuing last year's intertwined approach to physical and conceptual exploration of practice, it emphasizes the relevance of experimental treatments of actuality - of forms of collaborative creation - that may take us beyond the perspectives and protocols of established academic or artistic inquiry. Even as we turn to technologies of performances this year, artistic and conceptual criteria will be significant, and we have chosen expressive inter/relations - "konnecting gestures" as the focus of the 2012 workshop - gestures as practice that is at once aesthetic, corporeal, technical and political.
The lab will offer a series of parallel modules investigating the relations between choreography and software, sound and motion-design, movement capture and 3d digital/virtual environment navigation, light and projection architecture, dirty electronics, hacking and interactive programming.
The symposium and workshop are composed of dialogue and performance practice, intermixed with film screenings and a hands-on electronics and wearable design workshop as well as live coding sessions in the digital performance studio.
Open enrolment: Full Workshop Pass: £60/concession £30;
Day Pass: £25/concession £15
Tickets for evening concerts: £5
Concessions must provide Student ID at registration
Featured participants include:
Arthur Elsenaar, Thomas Köner, Claudia Robles, John Collingswood, Julie Wilson-Bokowiec, Mark Bokowiec, Jennifer Walshe, Camilla Barratt-Due, Kate Geneviève, Jörg Brinkmann, Simon Katan, Frieder Weiss, Ian Winters, Nick Collins, Eirini Nedelkopoulou, Darren Vincent Tunstall, and BADco (Ivana Ivkovic & Zrinka Uzbinec).
Coordinated by Johannes Birringer, Carl Faia and Daniel Ploeger
The "Workshop Words," as the late Kazuo Ohno called reflections on practice, are published online on our ArtaudForum website and links to performance films/documents will be made. The full program of workshops, roundtables, keynotes, exhibitions and concerts will be published on February 7.
 Accommodation available at:
Uxbridge Travelodge
Colham House
Bakers Road
Uxbridge
Middlesex
UB8 1RG
United Kingdom
Tel: 0871 984 6373
Fax: 01895 239 888
www.travelodge.co.uk
This event is programmed by the Centre for Contemporary and Digital Performance and supported by the Brunel School of Arts and Brunel University Graduate School. BADco.'s workshop is a part of LABO21 - European Platform for Interdisciplinary Research on Artistic Methodologies, with the supportof the Culture Programme of the European Union.
The Center for Contemporary and Digital Performance has its own TV CHANNEL on dance-tech.net, and will broadcast selected events/performances live from the Artaud Performance Centre 
http://dance-tech.tv/videos/daplabtv/  
+ + + + + + + +
When & Where

ANTONIN ARTAUD PERFORMANCE CENTRE
BRUNEL UNIVERSITY
KINGSTON LANE
Uxbridge, LONDON UB8 3PH


Friday, 30 March 2012 at 20:00

-

Sunday, 1 April 2012 at 17:00 (BST)
Add to my calendar