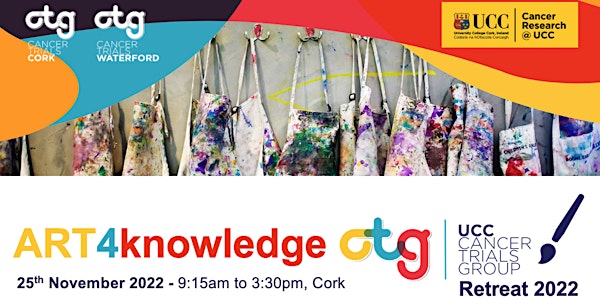 ART4knowledge UCC CTG Retreat 2022
First UCC Cancer Trials Retreat called ART4Knowledge! Contact: uccctg@ucc.ie
When and where
Location
Western Gateway Building Western Road Cork Ireland
About this event
- IMPORTANT: Check specific location for each session -
SESSION 1 - Linking cancer trials teams through art
Who can join? UCC CTG members only (staff affiliated with the UCC CTG via a CT unit)
Time & location: 9:15am to 1pm at Western Gateway Building, UCC, T12 XF62.
Purpose: Drawing on the ART4Knowledge theme, a team-building event will bring together the cancer trials unit staff from University Hospital Cork, University Hospital Waterford and Bon Secours Hospital Cork. A session to learn, share and discuss our role in cancer trials.
SESSION 2 – Drawing new connections between cancer trials staff, patients and public
Who can join? UCC CTG members and ANYONE interested in learning about clinical trials and/or participating in future Patient and Public Involvement (PPI*) panels.
Time & location: 12:45 to 3:30pm at Sunday's Well Boating & Tennis Club, T12 VC42
Purpose: the Art4Knowledge initiative inaugural workshop will be presented, accompanied by special speakers and an engaging creative experience. This event will bring together cancer trial staff, patients and public to learn from each other.
*What does PPI mean? When we use the term Patient and Public Involvement (PPI) it refers to patients, service users, carers, families using health and social care services, people with lived experience of health conditions (who may or may not be current patients), patient advocacy organisations, and members of the public
**What is Art4Knowledge initiative? It is an Art Therapy intervention for patients, their families and UCC CTG clinical trials teams, facilitated by the Crawford College of Art and Design.
Contact: uccctg@ucc.ie