Description
Without marketing and promotion what you have is a lovely hobby.
This workshop is about self-promotion for visual artists, however, nearly all of what is offered would work for any creative person seeking to market themselves. The valuable suggestions here are offered to help artists and creatives improve the art of self-promotion/marketing.
Self promotion and success go hand-in-hand and are a learned skill. To learn more about this important topic, please join our panel of experts as they offer priceless information for you to utilize as you develop your business skills. Q + A is what will feed this panel so please come prepared for interactive discussions!
Discussion Topics
Marketing/Promotions
1. Marketing
Define your product, discover your target audience, make decisions about how you sell your work, and identify a budget and strategy for your artistic business.
2. Promotions
Identify communication tools to fit your needs, craft engaging messaging, and build a basic promotions strategy with actionable steps to get the word out.
Panelist

Damn Good Agency Damn Good is a creative company that defies the norm. We're a band of thinkers and doers. Whatever the channel, we ignite expression of emotion. But our passion is partnering with brands who are brave enough to take risks to get results.
Gavin Robin Bio, Creative Principal, CEO/Owner
Delray Beach Marketing Cooperative The Delray Beach Marketing Cooperative, Inc., is a partnership between the City of Delray Beach, the Community Redevelopment Agency and the Chamber of Commerce. The DBMC's mission is to attract people to the City, create a positive image and increase awareness of Delray Beach for a positive economic impact through Destination Marketing, marketing programs, special events and community collaboration.
Stephanie Immelman, Executive Director
Stephanie is a longtime marketing professional having worked for companies such as Continental Airlines and AT&T both in the USA and in Europe. She started her career in the travel industry at Continental, eventually managing the OnePass Elite frequent flyer program at company HQ in Houston. Stephanie earned her Master's in International Relations at Boston University in Brussels, Belgium eventually running AT&T's Competitor Intelligence division for Europe, the Middle East and Africa. Stephanie moved to London with AT&T and lived there for nine years working first in telecom then leaving to follow her dream of running an art gallery.
Boca Raton Magazine and Delray Beach Magazine
Boca Raton and Delray Beach magazines are on the front lines of local issues and events in South Florida, covering the lighter side of life like dining news and fashion, to more substantive issues and trends. We help our readers navigate the dynamic lifestyle of this region through profiles of the people making it happen as well as the best experiences in arts and entertainment, dining, travel, health and beauty and more. We specialize in great storytelling. From explorations of local history to the stories behind the headlines, we've got our finger on the pulse of South Florida. Throughout our three decades of operation, we've been winning legions of sophisticated, educated readers who are curious and crave new experiences; we drill down past the obvious to find the best, the unique, the special.
Marie Speed, Group Editor-in-Chief
Marie Speed attended the University of Florida where she was awarded an MA in English literature. She moved to South Florida to become editor of Boca Raton magazine in 1991. Today, Marie is group editor of all JES publications, including Boca Raton, Delray Beach, Worth Avenue, Mizner's Dream and the annual publication for the Boca Raton Chamber of Commerce. She also oversees editorial operations of the company's Salt Lake City magazines.
Her community involvement has ranged from work with the Morikami museum and the Boca Raton Chamber of Commerce to a longtime board member position at Caridad Center. She is also on the George Snow Scholarship Fund review committee. She is a past officer of the Florida Magazine Association and a member of Class XVII of Leadership Florida.
Cultural Council of Palm Beach County
The Cultural Council of Palm Beach County is the official support agency for arts and culture in The Palm Beaches, Florida's Cultural Capital®. Headquartered in the historic Robert M. Montgomery, Jr. Building in Downtown Lake Worth, the Council presents exhibitions and performances featuring artists who live or work in Palm Beach County. The building also serves as a VISIT FLORIDA-designated Florida Certified Tourism Information Center, a helpful resource for visitors.
Daniel Boudet, Interactive Manager
Daniel is a West Palm Beach native with over ten years of experience in the marketing and advertising industry, with specific focus on website management and digital marketing. Over the six years spent at Palm Beach Newspapers, he managed just about all areas of digital marketing for The Palm Beach Post, its sister publications and advertisers, including: email marketing, contests/promotions, digital/mobile ads, landing pages, SEO and SEM. Since joining the Cultural Council in 2013, Daniel has put his expertise to use in the management of palmbeachculture.com and the implementation of a comprehensive marketing strategy with the rest of the Council's marketing team and their creative agency.
FAQs
Are there ID or minimum age requirements to enter the event?
18 and up
What are my transportation/parking options for getting to and from the event?
Event Parking: Street parking along 3rd Street and 3rd Avenue is free. There are two public parking lots marked in yellow on the map below which are north of Arts Warehouse on 3rd Avenue. Arts Warehouse is a short walk from the main downtown areas and Pineapple Grove garages. PLEASE do not park in the dirt parking lot at the northwest corner of 3rd & 3rd (denoted with a red X on map below) as it is not a public parking lot.
The use of Uber, The Delray Downtowner, and carpooling is encouraged.
With any questions please call 561-330-9614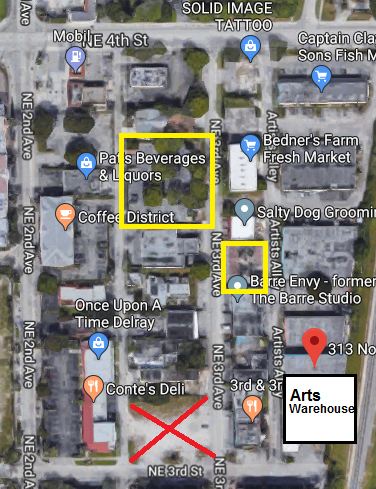 What should I bring into the event?
Please bring writing materials.