Description
Old Town Pittsburg Business District Association presents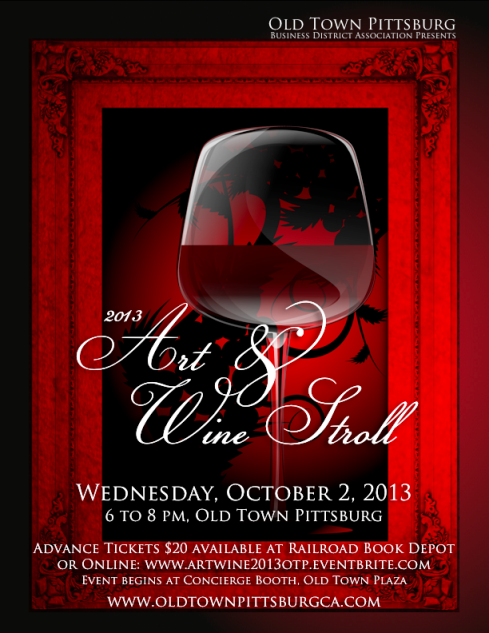 2103 Art & Wine Stroll
Date: Wednesday, October 2, 2013
Time: 6:00pm - 8:00pm
Where: Old Town Pittsburg (registration at the Concierge Tent in Old Town Plaza.)
Tickets: $20 per person, 21 and over only.
What: The Art & Wine Stroll is an Old Town Pittsburg Business District Association (OTPBDA) event that showcases the beauty and the businesses of Old Town Pittsburg while providing a fun and light-hearted evening for everyone involved.
How:
Start the evening at the Concierge Booth at Old Town Plaza where you will receive your souvenir wine glass, a wristband (don't forget to bring ID, this is a 21 and over event), a map showing the participating businesses, and your entry card for the Art & Wine Stroll Puzzle.

Then, visit each participating business at your leisure, in any order that you want. Each location will feature a different wine. Remember, however, that the event ends at 8pm, so don't dawdle... you want to be sure to visit each location and sample each wine. Enjoy live music, art and/or wine at each business.

At each location you will be given a piece of the Art & Wine Stroll Puzzle which you will need in order to enter the drawing. After you have visited all the locations on the map, make certain you have all the puzzle pieces, then return the full puzzle and your entry form to the Concierge Booth at Old Town Plaza. The drawing's grand prize winner will be announced on our website and contacted on October 3rd.

This event was so popular last time that it sold out quickly.