Description
We are gearing up for Art Walk West on September 16th, 2017! In 2015, artists, artisans, and creative businesses in West Dallas opened their doors to the public for a day of exploration, art and community-building fun. Twenty studios/galleries/spaces presented the work and methodology of the people behind the creative pulse in West Dallas to an audience of over 500, culminating in a celebratory reception where guests enjoyed live music, more art and light fare.
We were proud to count Art + Culture Texas and the Brooklyn Brewery among our sponsors, and even more excited when folks approached us at the reception to talk about the NEXT Art Walk West. As folks mingled over beers, we realized what we had hoped to build in West Dallas in fact already existed: a community with a shared mission to keep Dallas creative. We just gave the rest of the city a reason to come check it out!
Presented by the West Dallas Chamber of Commerce, the third annual Art Walk West will take place on Saturday, September 16th with even more galleries and exhibitions.
Please join us in bringing this event to life–whether as a sponsor, volunteer, artist-participant or attendee, we look forward to seeing you there. Art Walk West Committee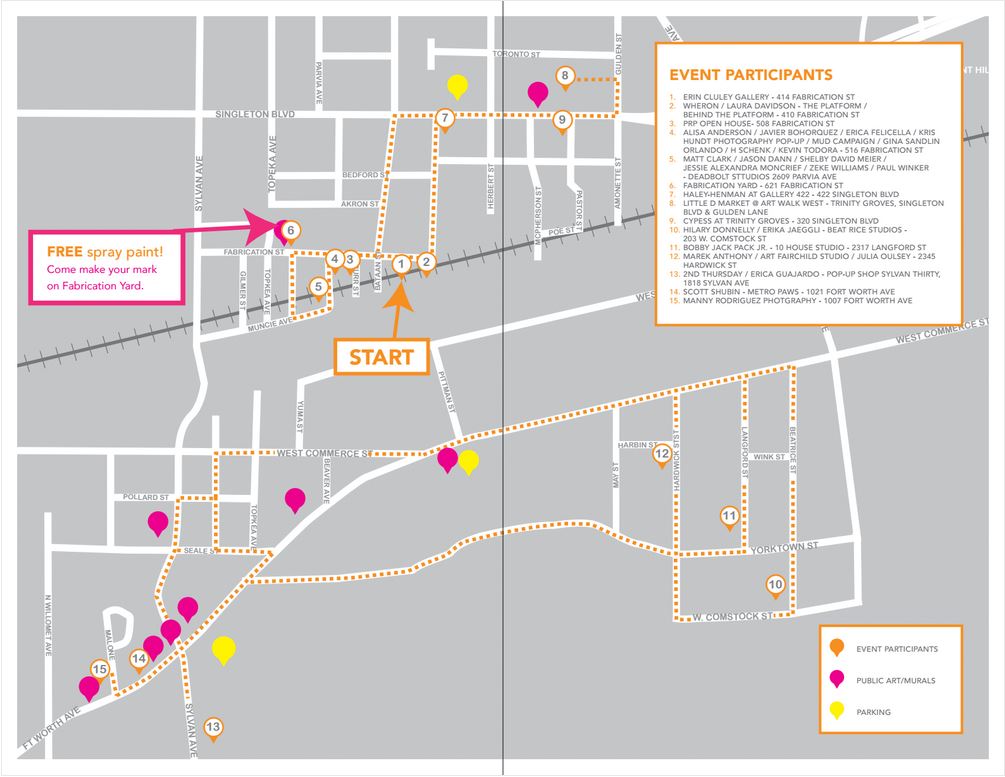 For more information, contact Erin Cluley at 214.760.1155 or artwalkwest@gmail.com.
For best experience, please start at Erin Cluley Gallery. We have programs with printed maps to guide your day. If you plan to start at another location, please download the map here for your reference.