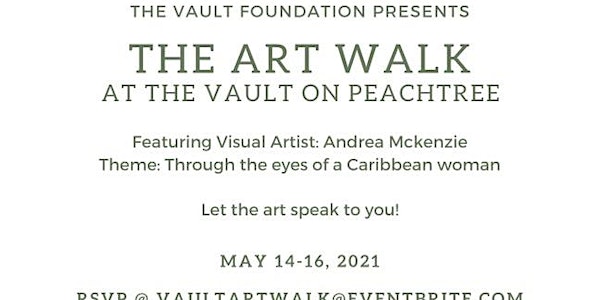 Multiple Dates
ART WALK at the Vault at Peachtree featuring Visual Artist Andrea McKenzie
ART WALK at the Vault at Peachtree featuring Artist Andrea McKenzie
About this event
ART WALK featuring Visual Artist: Andrea McKenzie
Theme: Through the eyes of a Caribbean woman
Let the Art Speak to you!
Friday, May 14, 2021 - 6-9 pm
Ticket includes Meet & Greet with the Artist
Saturday, May 15, 2021 - 1-5 pm
Open Art Walk with Caribbean Vibes
Sunday, May 16, 2021 - 1-5 pm (SOLD OUT)
Open Art Walk with Caribbean Vibes
This Exhibition is available for private and group showings until May 27th contact us at info@wearethevault.com to schedule.
Can't make the show check our the Virtual Gallery!
http://www.enorcity.com/VRtours/VaultVRTour1/index.htm
*********************************************************
Your donations allow us provide quality Art events like this and so much more!
About The Vault Foundation, Inc. (a 501c-3 Organization)
The Vault Foundation is the philanthropic arm of The Vault Community.
About the Movement
The Vault currently oversees 2 repurposed bank buildings in Atlanta and East Point, Georgia. We have created a new model where the treasures of engaging artistic expression, wealth building, and personal wellness promotes positive social and economic benefits for the community from one easily accessible resource – THE VAULT. We are proud of our recent endeavor in launching the Vault S.E.E.D Homeschool Collective. We believe that the success of our future generations depends on the type of education they get today. Infused with their curriculum, students learn about The Arts, Wealth, Entrepreneurship and Wellness.
The Vault Community --- WE ARE THE VAULT
www.thevaultfoundation.org
Checks can be made out to The Vault Foundation, Inc.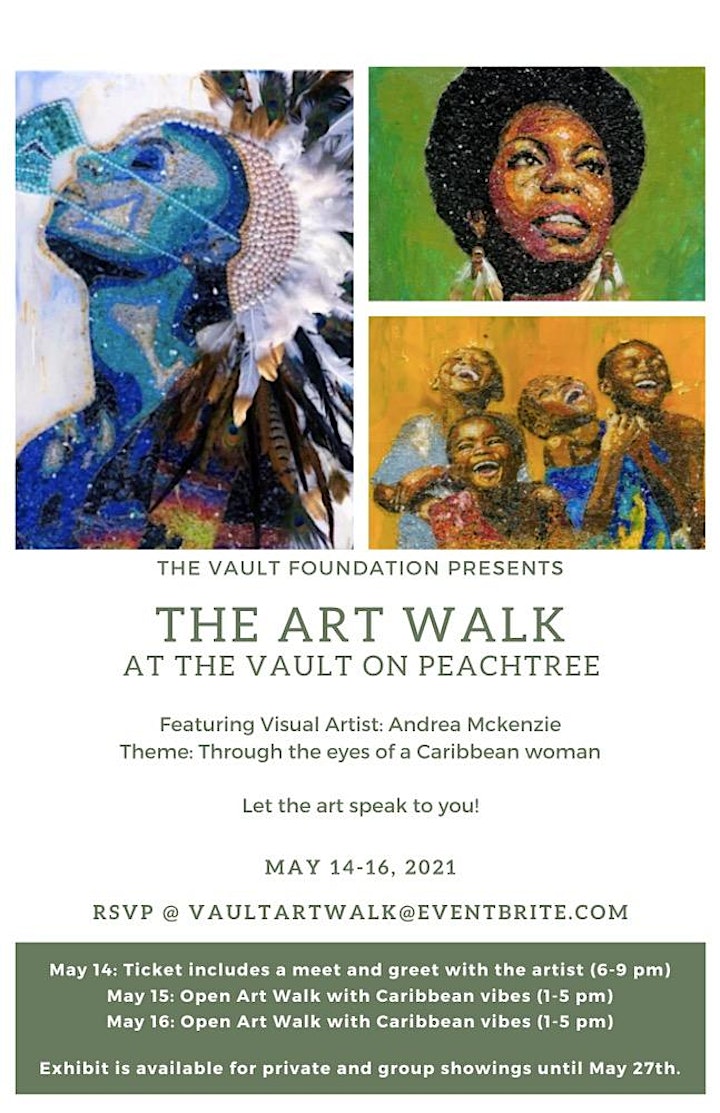 Organizer of ART WALK at the Vault at Peachtree featuring Visual Artist Andrea McKenzie
The Vault is a community of progressive, like minded creatives that are committed to unlocking the art and value of YOU through a variety of offerings.  You now hold the keys to art exhibits and courses from world class artist (and new independents); wealth building and entrepreneurship seminars; wellness classes; a beautiful gathering space; and so much more. We share access to the assets of artistic, creative expression outlets; wealth building resources; entrepreneurial enrichment; along with curated events, and personal wellness.