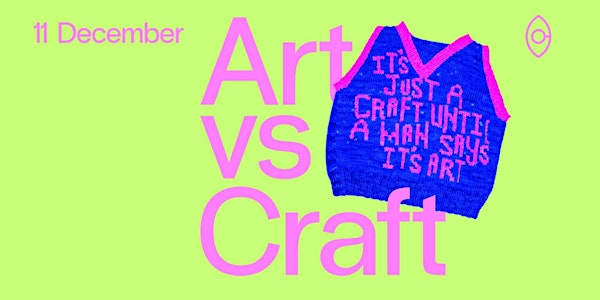 Art vs Craft event at Chrysalid Gallery Rotterdam
A day of interactive art vs craft themed events at Chrysalid Gallery: workshops, artist talk, snacks and community!
When and where
Location
Chrysalid Gallery 142 Coolsestraat 3014 LN Rotterdam Netherlands
About this event
What is the difference between the arts and crafts? Chrysalid Gallery's new exhibition Art vs Craft asks what does the art world discriminate against: the medium, the message or the artist?
On December 11 we invite you to a day of interactive art vs craft themed events in collaboration with Creative Womxn Rotterdam.
Schedule:
𝟭𝟮:𝟯𝟬 𝗗𝗼𝗼𝗿𝘀
𝟭𝟯:𝟬𝟬 𝗝𝗲𝘄𝗲𝗹𝗹𝗲𝗿𝘆 𝘄𝗼𝗿𝗸𝘀𝗵𝗼𝗽 𝗯𝘆 𝗠𝗮𝗿𝘁𝗶𝗻𝗮 𝗙𝗮𝗿𝗿𝘂𝗴𝗶𝗮
In this workshop, Martina will provide handcrafted ceramic beads for crafting your own jewellery and her research on jewellery making, and it's position in society.
𝟭𝟯:𝟯𝟬 𝗦𝘁𝗮𝗿𝘁 𝗼𝗳 𝘁𝗵𝗲 𝗽𝗿𝗼𝗷𝗲𝗰𝘁 𝗽𝗼𝗼𝗹 𝘄𝗶𝘁𝗵 𝗠𝗮ï𝘁é 𝗠𝗼𝗹𝗼𝗻𝗲𝘆
Climb into our inflatable pool and join our knitting circle. In project pool, we pool together our crafting materials and knowledge, sit together and create. There will be instructions and materials provided for basic needlework. Your workshop host will be able to troubleshoot you along the way in making a unique textile to contribute to the collective blanket being crafted during the event.
𝟭𝟱:𝟬𝟬-𝟭𝟱:𝟰𝟱 𝗔𝗿𝘁𝗶𝘀𝘁 𝘁𝗮𝗹𝗸 𝘄𝗶𝘁𝗵 𝗡𝗮𝘁𝗮𝗹𝗶𝗮 𝗚𝗿𝗲𝘇𝗶𝗻𝗮
Natalia Grezina Ukrainian artist working with embroidery and textile sculptures. Natalia will share her experience of making art in a "feminine" medium.
𝟭𝟳:𝟬𝟬 𝗖𝗹𝗼𝘀𝗶𝗻𝗴
Free entrance
This event is a part of Art vs Craft exhibition, on display at Chrysalid Gallery 10/12/22 - 22/12/22
Why is photorealism art, but lace-making that requires the same level of diligence not?
Why is knitting for grandmas and action painting for serious men? Is it because one requires patience and other physical force?
Artists and activist are claiming the art field and argue for the inclusion of craft into the art world. Art vs Craft exhibition is an intersection between the two, displaying pieces by Natalia Grezina, working with embroidery and fibre art, Kendall Ross, working with knit and print and Martina Farrugia, working with ceramics and bookmaking.