Description
We are excited to announce our FIRST SOLO ART EXHIBIT! We are currently exhibiting 32 PENCIL PORTRAITS through OCTOBER. The theme is ART TO INSPIRE. Come out to support us at the award-winning Jirani Coffeehouse in Historic Manassas, Virginia.

STOP BY ANY DAY TO VIEW THE ART TO INSPIRE EXHIBIT THROUGH OCTOBER.

WE ARE CO-HOSTING A MEET THE ARTIST EVENT on Saturday, September 23rd, 7:30-9:30 pm with Jirani Coffeehouse. COME OUT TO MEET KEVIN and hear about his inspiration and passion for art.

You will see our CRYSTAL EMBELLISHMENT PORTRAIT COLLECTION, which is hand-drawn with color pencils and adorned with clear and colorful SWAROVSKI CRYSTALS. Also on display are color pencil portraits and graphite pencil portraits.

All 32 pencil portraits are AVAILABLE FOR PURCHASE. All portraits are custom framed with a 16" x 20" distinctive, black gallery wall frame or shadow box frame along with a glass front and an acid-free mat. Hanging hardware is pre-attached. An ART TO INSPIRE MESSAGE is adhered to the back of the frame. Learn more at http://kevinjohnsonart.com/originals.

In addition, we can meet you at MULTIPLE PRICE POINTS with canvas prints adorned with Swarovski crystals, canvas prints, and 8x10 prints as low at $10.

We hope to see you there! Click on the green button at the top of the screen to REGISTER. It's FREE!

Kevin Johnson Art
kevinjohnsonart.com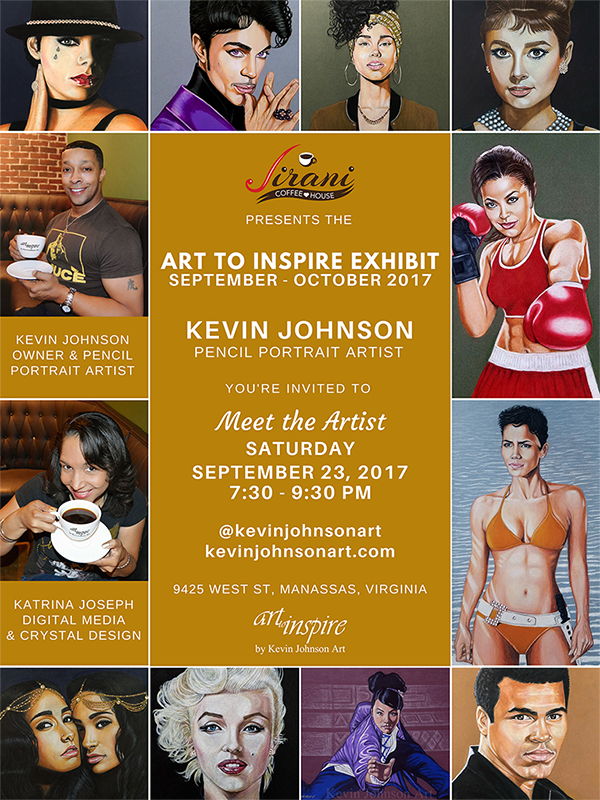 Save