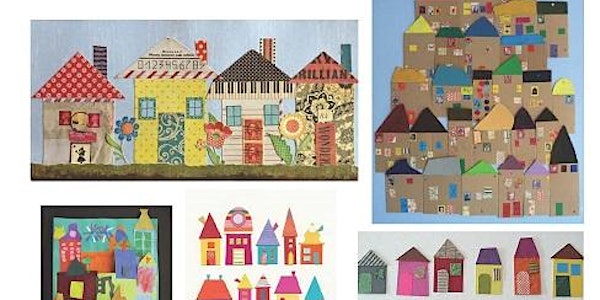 Art Therapy with Gaby
Come join us and Gaby as we create meaningful art! ALL ages welcome!
About this event
Date: April 18, 2022
Time: 6:30pm-7:30pm (Central Time)
Duration: 1 hour
Method of Delivery: Video Chat instruction via Zoom
Facilitator: Gabriela Gamez Language: Bilingual Instruction. (No need for translator)
Join us for an Art Project with Gaby!  All ages and abilities are welcome!!!
Activity: City of Love
Goal• To identify and have participants verbalize their safe places and the people who make them feel safe.
Throughout the instruction, facilitator will be commenting on the things she is noticing onhow they work, their choices, their skills, their ideas, etc…Materials needed:
Cereal boxes or thin cardboard
2 sides of cardboard box (thicker)
Small old buttons or beads
scissors
markers (permanent/sharpies if available)
glue stick (hot glue gun if available)
black paint or black sheet of paper
** Old rags (t-shirt/clothing fabric) Small pieces different patterns
** Scrapbook type paper, or paper with different textures/prints
** These materials are to design the houses. You can substitute for any other material you want to decorate the house images.
Closing Circle: Participants will have the opportunity to share their finished piece and talk about their finished piece as we prepare to end our group.
~~~~~~
Fecha: Lunes Apr 18, 2022
Horario: 6:30 PM CT
Duracion: 1 hora
Maestra: Gabriela Gamez, Terapeuta de arte certificado por la junta
Unase al Proyecto de Arte con Gaby! Todas las edades y abilidades son bienvenidas!
Actividad: Ciudad de Amor
Objectivo: Identificar y comunicar los lugares y la gente que los hace sentir seguros.
Durante la clase e instrucciones la maestra estara comentando sus observaciones, como trabajan, lo que escojieron y sus habilidades e ideas. Materiales que necesita:
cajas de cereal
2 lados de caja regular,(gruesa)
botones o cuentitas
tijeras
marcadores(permanente/sharpies )
pegamento (pistola de pegamento )
pintura blanca o papel negro
** toallas viejas (camisetas viejas) recortes de tela de diferentes patrones
** Papel con diferentes texturas, colores y patrones
** Los materiales son para diseñar las casas, usted puede usar cualquier otro material que quiera para las casas.
*Circulo para concluir: Los últimos minutos serán utilizados para compartir en el monitor nuestras creaciones y experiencia.
Favor de registarse para recibir el link 30 minutes antes de empezar la session de Zoom. Puede usar un telefono, computadora o tableta.
Zoom How To Instructions: Zoom has a how-to join by phone page: https://support.zoom.us/hc/en-us/articles/201362663-Joining-a-meeting-by-phonePage that explains how to use Zoom: https://www.context.org/help/zoom-quickguide/iPad/tablet installation: http://www.pirweb.org/en/wp-content/uploads/2017/10/Getting-Started-with-Zoom-Tablet.pdf
Oprime aquí para instrucciones en espanol para registrarse.