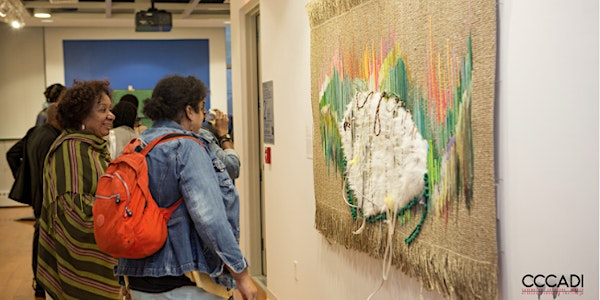 ART TALK: ALL THAT GLITTERS IS EL DORADO
When and where
Location
Caribbean Cultural Center African Diaspora Institute 120 East 125th Street New York, NY 10035
Description
Art Talk: All That Glitters is El Dorado
Liminal Space artists Damali Abrams, Victor Davson, and Suchitra Mattai will join curator Grace Aneiza Ali in a conversation on how their work invokes Guyana's history and mythology – such as the mythical city of gold, El Dorado. They will also speak about the significance of the materials they use to explore fantasy, folklore, carnival, masquerade, and Hindu and Voodoo religious practices, which involve glitter and gold as adornments of ritual space.
GENERAL ADMISSION: Free with RSVP, suggested donation is $5.00
Read more about the artists' work featured in Liminal Space below:
Damali Abrams uses fantasy, myth, folklore, and contemporary popular culture to explore a Black Utopia infused with Afro-Futurism. In this work, a mermaid couple, swathed in glitter, is posed in acts of love, desire, and devotion. The otherworldly narratives reflect "a space of liberation for the Black imagination that rejects tragedy and trauma as the dominant narratives of the Black experience," states Abrams.
Damali Abrams, Untitled (MerCouple), 2016
Clusters of colored jhandi flags mounted on bamboo poles are a common site in Hindu homes, temples, and public spaces near bodies of water to indicate a Hindu prayer ceremony (puja) has been performed. In Jhandi Flags, Davson references the religious iconology of this ritual, transforming the canvas's fabric with a heavy bath of glitter, sequins, and acrylic paint.
Victor Davson, Jhandi Flag #5, 2017
In El Dorado, After All, Suchitra Mattai reimagines the mythical city of gold that ignited 16th-century European explorations of South America. Drawing from a photograph hypothesizing the location of this lush world, Mattai renders "El Dorado" an idealized, imagined, abandoned, symbolic space. The work teems with texture, materiality and laborious detail.
Suchitra Mattai, El Dorado After All, 2017
(Photo Credit: Photo Credit: Argenis Apolinario)