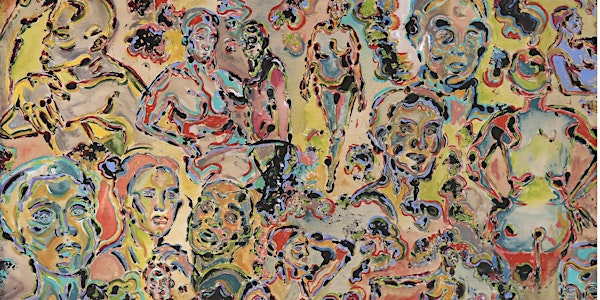 Art Show Opening: Rebecca Dearden
Join us at Manny's for our new monthly community art show! This month come check out Rebecca Dearden's work.
When and where
Location
Manny's 3092 16th Street San Francisco, CA 94103
Refund Policy
Contact the organizer to request a refund.
About this event
Looking for new art?
Want to support a local artist?
Join us as Manny's on the first Friday of the month for our new monthly art show opening! Every month we will be showcasing a different local artist in the space and all proceeds will be going directly to them.
This month we will showing Rebecca Dearden whose work blurs the lines of gender with abstract, ambiguous figures.
So, come kick off your weekend right with some amazing art, delicious drinks, and beautiful community.
If you have any questions at all, please reach out to angelina@welcometomannys.com
About Rebecca Dearden:
Rebecca Dearden is a visual artist who works in many mediums including painting, photography, directing, and writing. Through all of these creative interests, storytelling remains her biggest passion. Rebecca received her Bachelor of Science from Ithaca College in Cinema and Photography with a minor in Art. Rebecca is currently based in San Francisco, California where she works as a Producer in the Photography industry. She is also a member and exhibiting artist at City Art Cooperative Gallery and San Francisco Women Artists Gallery. Rebecca is currently working on production for the first season of her original comedy TV show, Sugar Baby.
Website: rebeccadeardenart.com
Instagram: @rsdearden
Artist Statement:
I am a process-oriented painter who creates abstract, figurative pieces. I seldom approach a piece with a concept in mind but rather use an alternative mark-making system that involves painting a subject on separate paper then stamping it onto my canvas or chosen surface. Through this method, the subjects become reversed and altered from my original vision. I enjoy mimicking the organic shapes that form from a process that feels slightly out of my control. I let the work unfold before me and allow the process to inform me as I go.
My work focuses on gesture and movement. The abstract figures in my pieces are not fully rendered; they are intentionally ambiguous in gender and other identifiers. By excluding context from my subjects, my paintings strive to emphasize the spirit of the gesture or essence of an emotion through exaggerated mark-making and bold color choices. The figures often blend together and exist in vague spaces absent of perspective and a sense of place or time. My goal is for a viewer to return to a piece and discover something new each time- perhaps as their mind searches for figures where figures were never intended to be.
My most recent work repurposes scrap wood to serve as my canvas. I currently enjoy playing with the texture and imperfections of the surfaces that I source and stumble upon, and my intention is to be more mindful of consumption in my art making and, instead, work with any discarded materials I can find.