Description
Join us for food, drinks, music, and art as we showcase the artwork of local artist Laura Farrell. This is Laura's first one person show at Hera Hub DC. She participated in multi-artist show last year and sold several paintings! We are delighted to have her here again for her own solo show!
During the show, we will also be listening to live music by Cathy DiToro. As a female in a historically male dominated industry, Cathy has persevered to become a well respected and sought after musician as well as a roll model for female musicians in the DC Metro community. projectHERA was born from Cathy's first hand knowledge of the struggles female musicians face. As Chief Empowerment Officer, she puts her Master Degrees in Counseling to use by striving to promote and support youth musical education and development.
In support of this wonderful program, part of the proceeds from any sale the evening of the event will be donated to projectHERA.

It will be a wonderful evening to enjoy Laura's art and Cathy's live music while supporting an important cause! Hope you will join us!
About the artist: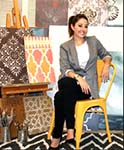 Laura M. Farrell, CID is the owner and creative director of LMI Studios Inc. She holds a BFA degree from Salisbury University and is certified in Interior Decorating. She began her business in 2003.
About the musician: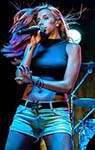 As a 10 year veteran of the DC area music scene Cathy has moved up the ranks from a struggling musician to a staple in the music community, playing in 5 bands as well as running 2 business including CMD Music LLC and District Booking & Productions.