Event Information
Location
1003 Bukit Merah Central
Level 6, Conference Room
Singapore, Singapore 159836
Description
Get control of your life! Awaken the self healing properties of your body.

This seminar/talk will teach you how you can make Food, water and air your medicies and live a healthier & happier and longer life. Natural Living is energizing the natural ability of our body to heal itself.
God has given all of us the ability to heal ourselves. Today with our overly unnatural lifestyles we have diminished our ability to heal. This seminar will help us understand where we have gone wrong & what we can do to restore our body's natural healing abilities. In the sharing session of this seminar we will listen to some personal experiences of people who are practicing natural living actively in Singapore. There will also be an opportunity to clarify your doubts & seek inputs.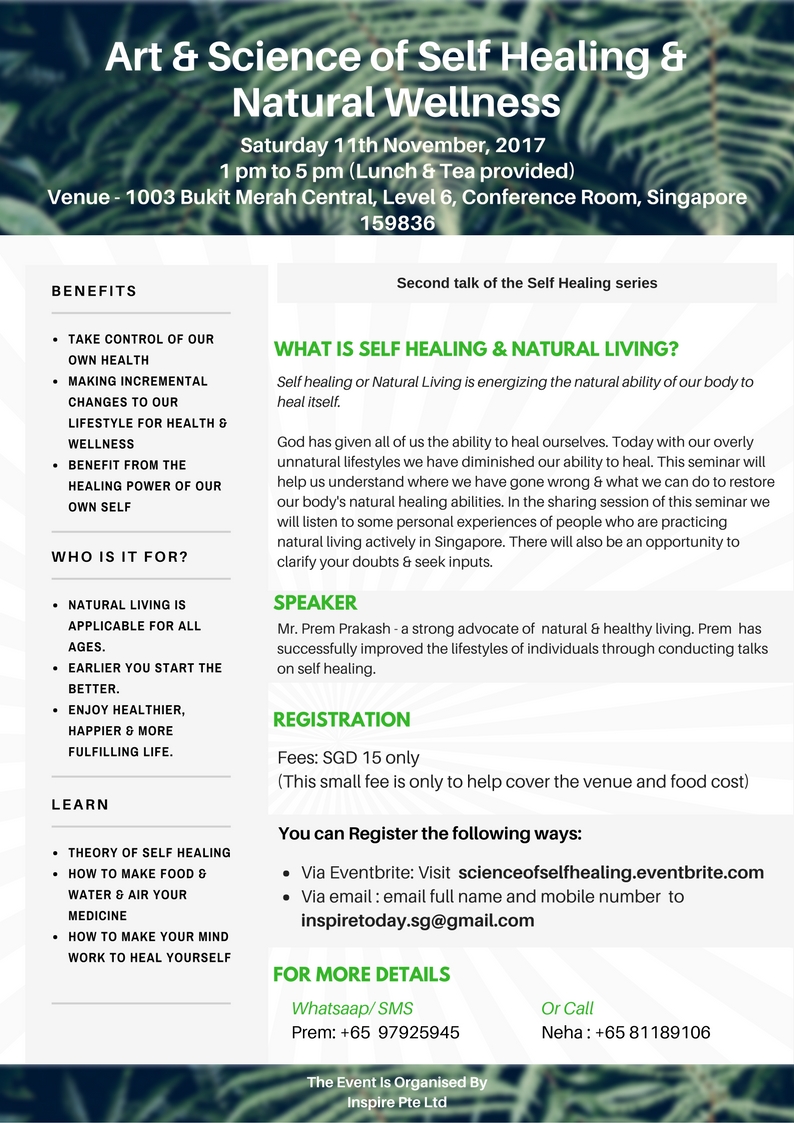 Benefits:

Benefit from the healing power of our own self

Get control of your health without a doctor

Lifestyle changes for longer healthier life

Making incremental changes to our lifestyle for health and wellnes


Who is it for?
Natural living or Self healing is applicable for all ages and earlier we start better it is and will enjoy healthier, happier and more fulfilling life


The question is, if a human body can recreate another human body, why can't it heal itself when needed?

Venue & Time:
Saturday 4th November, 2017 | 1 pm onwards (Lunch & Tea provided)
Venue - 1003 Bukit Merah Central, Level 6, Conference room, Singapore 159836
Date and Time
Location
1003 Bukit Merah Central
Level 6, Conference Room
Singapore, Singapore 159836