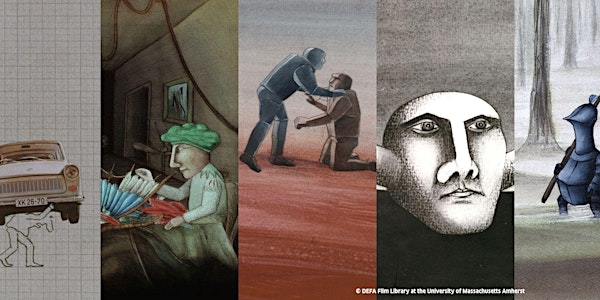 Art & Power: Lutz Dammbeck - The Animated Short Films of Lutz Dammbeck
When and where
Location
Goethe-Institut Washington 1990 K Street Northwest #03 (Entrance on 20th St. lower level) Washington, DC 20006
Description
Following his September 2019 visit as artist-in-residence at the DEFA Film Library at the University of Massachusetts Amherst, German director and media artist Lutz Dammbeck will tour the USA with his film series Art & Power: Lutz Dammbeck featuring 18 of his documentaries and animation films. All films from the tour will be made available for rental and educational streaming by the DEFA Library.
The Washington, DC leg of this tour will include three screenings of Dammbeck's work, two of which will be followed by Q&As and discussions with the filmmaker himself. The film program, including Lutz Dammbeck's appearances at the National Gallery of Art on September 15 and at the Goethe-Institut Washington on September 16, has been made possible with support from Wunderbar Together: Germany and the U.S., the DEFA-Stiftung, and the DEFA Film Library at the University of Massachusetts Amherst.
The Animated Short Films of Lutz Dammbeck
An introduction to the film will be provided by Peter Rollberg, Professor of Slavic Languages, Film Studies, and International Affairs at The George Washington University. A discussion will follow the screening.
After completing his military service, Lutz Dammbeck became a freelance painter and graphic artist in Leipzig, and produced his first DEFA animated film Der Mond – a short film for children – in 1975-76. He directed five more remarkable short animation films for DEFA as a freelancer. One of these was The Tailor of Ulm (Der Schneider von Ulm), an adaption of Bertolt Brecht's poem about a tailor who rebels against officials, which he made at the invitation of legendary animator Kurt Weiler. Later in his career, Dammbeck directed one more animation film; produced for television in 1993, the children's film Duke Ernest (Herzog Ernst), based on a medieval legend, tells the story of the first crusade and a brave knight who wins the heart of a princess.
-----------------------------
Live! (Lebe!)
GDR, DEFA, 1978, 11 min., color, animation, no dialogue
This short film traces the story of a man from birth to old age. The magical dreams of his youth appear from time to time, but daily routine quickly takes over. His striving for material wealth — including a Trabant car, a shelving unit, a boat — leads him to betray his youthful ideals, and he ultimately becomes a slave to his possessions. In the final frames of the film, "LIVE" — written in big white letters — ironically reminds viewers not to forget to follow their dreams.
-----------------------------
The Tailor of Ulm (Der Schneider von Ulm)
GDR, DEFA Studios, 1979, 15 min., color, animation, in German with English subtitles.
The little town of Ulm is governed and oppressed by its bishop. Nobody speaks up against him except the tailor, who is also an artist. He rebels against the bishop's power and believes the impossible is possible. He believes in his dream—that he can fly! This animation film is based on the eponymous poem written by Bertolt Brecht. In the film, Dammbeck also hid a reference to Panamarenko (written on the tailor's hat), the Belgian artist, who became known in the mid-1960s and '70s for his mixed-media sculptures of flying objects. Dammbeck made this film—a reference to the myth of Icarus and a metaphor for failure, hope and human exploration—at the invitation of the legendary animator Kurt Weiler. It's the first example of Dammbeck's experimental, grotesque, surrealistic style of animation. The idea of flying, which Dammbeck uses here for the first time, will reappear continuously in his next films. The Tailor of Ulm established Dammbeck's reputation among East German animation directors.
-----------------------------
Einmart
GDR, DEFA Studios, 1981, 15 min., color, animation, in German with English subtitles.
Mutants live on a hermetically sealed, devastated planet. The film's protagonist, a head with hands but no body, drags himself through a dreary, lightless landscape of isolated, random organs and cell clusters. He wants to get to the simulation machine that will allow him to experience the illusion of free flight. The dominator of the planet is a tall black birdman, who seems to celebrate free flight. The protagonist and other creatures want to leave their earthbound existence and try to imitate him. The protagonist's flight ends in disillusion, however. His range is restricted by a cupola-shaped net, which only allows him to see outside, where free and weightless flight seems possible. He could risk jumping, but he might end up dead.
With its rich visual world, supported by musique concrète and masterly paraphrases of Buñuel and Tarkowsky, Einmart was both controversial among officials and set unprecedented standards in East German animation. The film became an insider tip among art house cinephiles and intellectuals, who saw it as a parable of the East German surveillance state.
-----------------------------
The Flood (Die Flut)
GDR, DEFA Studios, 1986, 10 min., color, animation, no dialogue.
Two men sit on an island watching the sunset. When a storm gathers, they decide to build a boat. While one man is mindful of the coming danger and urges speed, the other wastes his time on decorative details. Dammbeck's last film made in the GDR before he left for West Germany is based on a Chinese fable, with music by internationally known jazz musician Günter "Baby" Sommer.
-----------------------------
Duke Ernest (Herzog Ernst)
GDR, 1984-1993, 45 min., color, animation, in German with English subtitles.
Young Duke Ernest wants to become a good knight, but circumstances are not in his favor. The Emperor—who wants to claim the Duke's castle and marry his mother—has Ernest wrongfully accused of murder and jailed. The only way to escape death is to enlist and go in search of the legendary Carbuncle Stone. Along the way, Ernest encounters carnivorous rocks, magnetic mountains, the giant bird Roc and many fantastical adventures.
Dammbeck worked on this children's animation film—based on a medieval legend first written down in 1284—for almost ten years. Critics called the film a masterpiece and highlighted the fanciful characters, the beautiful color scheme and the film's poetry.
Peter Rollberg joined the George Washington University in 1991. He grew up in Halberstadt, Germany, and in Moscow. In 1988, he earned his Ph.D. in Russian Literature from the University of Leipzig. In 1990-1991, he taught at Duke University. Among his English, German, and Russian publications are articles on Aleksandr Pushkin, Feodor Dostoevsky, Lev Tolstoy, Vladimir Nabokov, Mikhail Bulgakov, Vasilii Grossman, Mikhail Prishvin, Vasilii Belov, Vladimir Makanin, and Anatolii Kim. He also wrote about aspects of Russian and German cinema and media and was the editor of The Modern Encyclopedia of East Slavic, Baltic, and Eurasian Literatures (Academic International Press, 1996). In 1997, he published a Festschrift in honor of Charles Moser, And Meaning for a Life Entire (Slavica). He is the author of the Historical Dictionary of Russian and Soviet Cinema (Scarecrow Press, 2008), the second, enlarged edition of which was published in 2016 (Rowman and Littlefield). In 2014, he edited Media in Eurasia – a special issue of Demokratizatsiya: The Journal of Post- Soviet Democratization, and in 2015, with Marlène Laruelle, The Media Landscape in Central Asia, in the same journal. Peter Rollberg was director of the GWU Honors Program in 2001-2003, director of the GWU Film Studies Program in 2000-2010, Chair of the German and Slavic Department in 1999- 2001, and Chair of the Department of Romance, German, and Slavic Languages and Literatures in 2006-2009. Since 2012, he has been director of the Institute for European, Russian, and Eurasian Studies. He won a Bender Teaching Award in 1999 and the Trachtenberg Teaching Award in 2001.