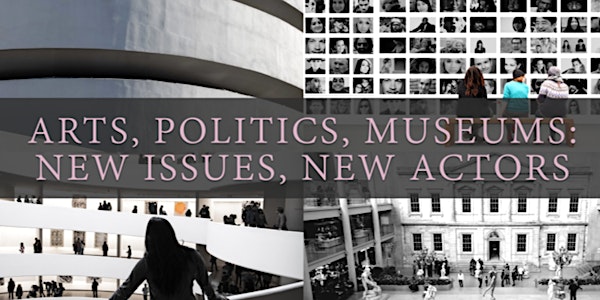 Art, Politics, Museums: New Issues, New Actors
When and where
Location
Pulitzer Hall, World Room 2950 Broadway New York, NY 10027
Description
This event is SOLD OUT but will be broadcast live on the CGT Youtube channel here: https://youtu.be/BFtqDmB8H20
---
Arts, Politics, Museums: New Issues, New Actors
Tuesday, October 15, 2019 · 6
:30PM – 8:00PM
Columbia University Journalism School – Pulitzer Hall – World Room


Panel discussion featuring:
Richard Armstrong | Director, The Solomon R. Guggenheim Museum and Foundation

Betti-Sue Hertz | Director and Chief Curator, Wallach Art Gallery, Columbia University

Alisa LaGamma | Ceil and Michael E. Pulitzer Curator in Charge, Arts of Africa, Oceania, and the Americas, The Metropolitan Museum of Art
---
Arts have been periodically but consistently subjected to political pressures. Now, in many parts of the world, new voices are clamoring to constrain artistic expression and presentations of works of art. Even the traditional issues of cultural repatriation have taken on new urgency as the cause has been taken on by new actors. Social media platforms are creating new possibilities for artists to become politically engaged and the same platforms are utilized to instantaneously create social movements to destroy works of art seen as unpalatable to special groups. At the same time, politically conservative leaders in many parts of the world are using populist strategies and sophisticated social media platforms to put new pressures on artists and arts institutions.
The goal of this panel is to create a thoughtful conversation about the role of museums in dealing with these new pressures. We will address not only the issues of identity and class politics, but also the repatriation questions that are raging high in Europe after the Macron report. What does this mean for U.S. museums? How do institutions plan to move forward in this new climate?
Held as part of the "Politics of Visual Arts in a Changing World" research project of the Committee on Global Thought, this panel discussion will be moderated by Vishakha N. Desai, project leader and Committee Vice Chair. This event is made possible through the generous support of the Andy Warhol Foundation for the Visual Arts. Co-sponsors of the event include: ArtTable, Columbia University School of the Arts, and the Undergraduate Committee on Global Thought.