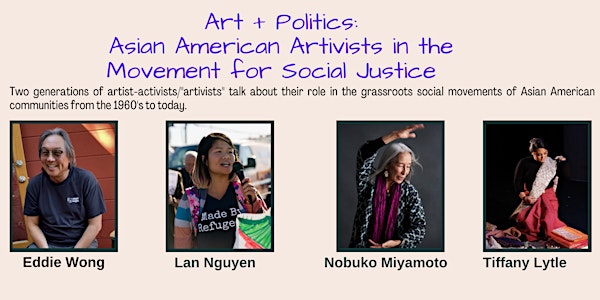 Art + Politics: Asian American Artivists in the Movement for Social Justice
An intergenerational conversation among Asian American Artivists in the Movement for Social Justice
About this event
Two generations of artist~activists/ "artivists" will talk about their role as artists who were active in the grassroots social movements of Asian American communities from the 1960's to today. This program connects two filmmakers and two songwriter~performance artists who will talk about how they use their medium to tell the stories of and engage Asian American communities.
Speakers
Eddie Wong served on the founding student/faculty steering committee that established the UCLA Asian American Studies Center in 1969. He was co-editor of Roots: An Asian American Reader (UCLA 1971), the nation's first Asian American studies textbook. Eddie earned an MFA from the pioneering EthnoCommunications Program at UCLA Film School. He was co-founder of Visual Communications,the nation's first non-profit Asian American media production company. He worked as Executive Director of the Center for Asian American Media. Eddie was involved in the 1984 and 1988 Jesse Jackson for President campaigns. After these campaigns, he continued to work with Reverend Jackson in the National Rainbow Coalition. Eddie is now retired and the volunteer editor of the ezine East Wind: Politics and Culture of Asian America
Lan Nguyen is a filmmaker, educator, and organizer. She grew up in Long Beach, California as the daughter of Vietnamese refugees. She studied journalism and education at Northwestern University, then went on to UCLA to get her Master of Arts in Asian American Studies. She is a lecturer with California State University of Long Beach, where she teaches ethnic studies to college and high school students. Lan is active in community organizing around issues such as deportation, incarceration, and racial justice. Lan utilizes documentary filmmaking as a tool for social change and has directed several short films about social justice issues, which have been screened at festivals, community centers, and universities. She was recognized as a 2019 NeXt Doc Fellow and received the Loni Ding Award for Social Justice Documentary in 2020. She is the director, producer and editor of Fighting for Family.
Nobuko Miyamoto is an artivist who uses song, dance and theater to explore ways to reclaim and decolonize our minds, bodies, histories, communities, and to create solidarity across cultural borders. Originally a dancer performing on Broadway and in films, she found her own voice as an activist and singer in the Asian American Movement creating with Chris Iijima and Charlie Chin the iconic album A Grain of Sand (1973, Paredon/Smithsonian Folkways). In 1978 she established Great Leap, creating musicals, concerts, albums, music videos and most recently FandangObon, a festival of art, cultures, earth. In 2021 Nobuko released a double album, 120,000 Stories with Smithsonian Folkways, and her memoir, Not Yo' Butterfly: My Long Song of Relocation, Race, Love, & Revolution published by University of California Press.
Tiffany Lytle is a performing artist and scholar whose work engages with transgenerational memory, cultural identity, and multiraciality in the Cambodian American diaspora. Her 2020 single "Justice" reckons with global responses to the Cambodian genocide. Her album Cambodian Child is available on iTunes, Spotify, and all music streaming platforms.
Co-sponsored by UCLA Asian American Studies Center & Department and East Wind ezine