Description
Celebrate the close of our 2nd Annual Art Party with food, stories and music at our Shindig!

** $35 + fees online, $45 at the door (limited number) **
Join us in the Courtroom at Gettys as we reflect on stories that shape who we are and where we're going in a world of rapid change.
A sumptuous dinner featuring appetizers, heirloom-breed corn grits grown in the South Carolina Lowcountry along with exquisite toppings such as pork belly "croutons," and dessert will be served. Cash bar.
Guest speaker Tommy Tomlinson and music by Elonzo Wesley will set the environment for the Shindig.
---
Tommy Tomlinson has written for publications including Esquire, ESPN the Magazine, Sports Illustrated, Forbes, Garden & Gun, and many others. He spent 23 years as a reporter and local columnist for the Charlotte Observer, where he was a finalist for the 2005 Pulitzer Prize in commentary. His stories have been chosen twice for the "Best American Sports Writing" series (2012 and 2015) and he also appears in the anthology "America's Best Newspaper Writing." He teaches magazine writing at Wake Forest University and has also taught at the University of Georgia, Queens University of Charlotte and the Poynter Institute. He has been a speaker at workshops and conferences across the country. He's writing a book called "The Elephant In the Room" (Simon & Schuster), a memoir about life as an overweight man in a growing America. He's a graduate of the University of Georgia and was a 2008-09 Nieman Fellow at Harvard University. Tommy and his wife, Alix Felsing, live in Charlotte.
Elonzo Wesley began in January 2015, shortly after the breakup of Charlotte NC's Elonzo. After moving from Atlanta in the mid 2000's, singer-songwriter Jeremy Davis (Elonzo Wesley) formed the indie rock band, naming it after his father. The band self-released three full length records and two EP's, touring the Carolina's and Southeast. By December of 2014, after slowly disbanding for some time, another chapter in this story began. With 3 full length albums, hundreds of shows, and a few years under his belt, Jeremy Davis will continue to carry his father's name as a moniker and guide. Elonzo Wesley, at it's best is; the musical truth of the moment, combined with the beauty and sadness of what has passed. Currently, EW is performing as a solo artist and also with a string band.
Shindig! is an ART PARTY! event.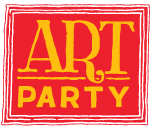 ---
Support for this project is provided by the Arts Council of York County Small Grants Program, the John and Susan Bennett Memorial Arts Fund of the Coastal Community Foundation of SC, and the SC Arts Commission, which received funding from the National Endowment for the Arts.