Description
Celebrate the close of our 3rd Annual Art Party with food, poetry and music at our Shindig!

Join us in the Courtroom at Gettys as celebrated poet Susan Ludvigson shares a reading of selected works and shares in conversation.
Gil Gonzalez and Jeff Cozzens with El Cancun are bringing a sumptuous family-style dinner featuring appetizers, main course and dessert that fuse traditional family recipes from Mexico with local Carolina ingredients and flavors.
NEW PRICE: $40 ticket until 11/11/18 - $50 after 11/11. Student ticket $20 until 11/11/18, $25 after 11/11
Live music & cash bar (first drink included with ticket).
---
Susan Ludvigson is professor emeritus of English at Winthrop University in Rock Hill, South Carolina. She is the author of ten collections of poetry; her books include Northern Lights (1981), The Swimmer (1982), The Beautiful Noon of No Shadow (1986), To Find the Gold (1990), Everything Winged Must Be Dreaming (1993), Trinity (1996), Sweet Confluence: New and Selected Poems (2000), and Escaping the House of Certainty (2006).
Ludvigson's poetry attends to family, faith, landscapes, and the arts. Reviewing The Beautiful Moon of No Shadow for Poetry, Alice Fulton noted, "Ludvigson reveals emotional treasons and treasures by recording rather than transforming reality.… Like a cinema verité director, Ludvigson observes and participates in the poems." Escaping the House of Certainty includes formally innovative poems that incorporate prose, recipes, and fluid, broken lines.
Ludvigson has received a Fulbright Fellowship to Yugoslavia and awards from the National Endowment for the Arts, the Rockefeller Foundation, and the Guggenheim Foundation.
Kelly Jo Ramirez:
As far back as she can remember, Colombian American, singer-songwriter Kelly Jo Ramirez listened to Latin heroes like Joe Arroyo and Celia Cruz alongside pop greats like Prince and Paul Simon. This constant flow of cross-culture set the stage for Phat Lip long before it would ever see light.
Kelly Jo, a set-taught guitarist from the age of 12, spent much of her youth writing songs; it came as no surprise when she decided to pursue a musical career following high school. Her fan base in Greenville, SC grew quickly after releasing her debut album (ZerimaR) and founding funk-rock band, the Kelly Jo Connect. After a five-year run, the KJC slowly fell quiet, leaving Kelly in search of a new creative outlet. She began using GarageBand to build demos and what seemed like a pastime, quickly developed into the beginnings of Phat Lip.
Shindig! is an Art Party event.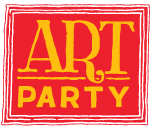 ---
Support for this project is provided by the Arts Council of York County Small Grants Program, the John and Susan Bennett Memorial Arts Fund of the Coastal Community Foundation of SC, and the SC Arts Commission, which received funding from the National Endowment for the Arts.