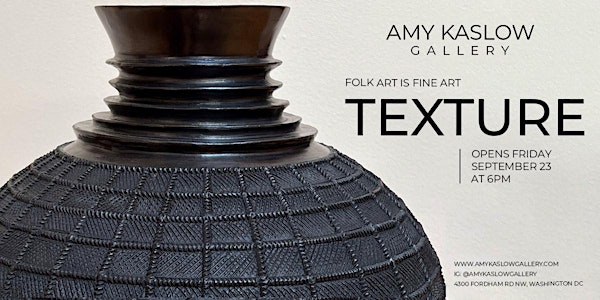 Art Opening | Folk Art is Fine Art: Texture
Welcome to Texture, striking works from around the globe that tell the compelling stories of the people who create them.
When and where
Location
Amy Kaslow Gallery 4300 Fordham Road Northwest Washington, DC 20016
About this event
Texture is our second Folk Art is Fine Art exhibition celebrating astounding generation-to-generation talent that is often remote, even hidden from public view. Thanks to our close collaboration with the International Folk Art Market in Santa Fe, this is Folk Art at its very finest. Our curated selection of sculptors, painters, weavers, potters and assemblers deploy the same practices, natural materials and dyes of their ancestors. Hand spun raw silk soaked in botanical colors and stitched into perfectly smooth piles to form tapestries. Mud contoured into ceremonial beer pots, their cylindrical shapes decorated with raised dots to enumerate the number of cows a tribal chief owns. Texture is a stunning journey, from Colombia to Uzbekistan. Join us at Amy Kaslow Gallery September 23 through the new year.