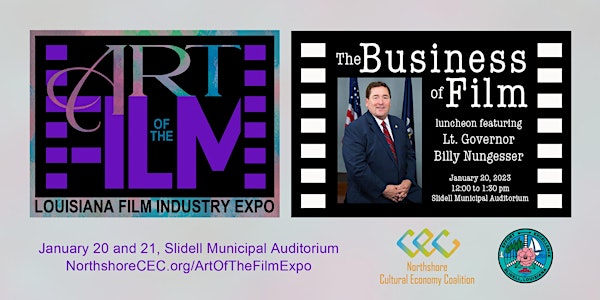 Art of the Film Expo and Business of Film luncheon
Art of the Film: Louisiana Film Industry Expo is an informative and entertaining showcase of the many facets of the film industry.
When and where
Location
Slidell Municipal Auditorium 2056 2nd Street Slidell, LA 70458
About this event
Have you ever wondered what it might be like to serve as an extra in a movie or to delve into acting? Are you interested in learning more about the many facets of the film industry including production, music, songwriting for films or listing your property for consideration in productions? Perhaps you'd enjoy a behind-the-scenes peek at the happenings from Hollywood to Hollywood south? Art of the Film: Louisiana Film Industry Expo is a two-day event that will offer all this and more.
The Business of Film luncheon with Lt. Governor Billy Nungesser will be held Friday, January 20 at noon, also at the Slidell Municipal Auditorium. Doors open at 11:00 am. The luncheon is a ticketed event. Tickets $40. Non-refundable.
Art of the Film Expo is free and open to the public, Friday, Jan. 20, 1:45 to 6:00 pm and Saturday, Jan. 21, 10 am to 6:30 pm, plus live entertainment at Expo After Hours, Friday from 7 to 8:30 at The Wine Garden, sponsored by Ozone Songwriters Festival and Saturday, 6:30 to 7:30 pm, Northshore Community Orchestra, sponsored by the City of Slidell.
Admission to the Expo is free, but preregistration is encouraged to guarantee seating and to expedite admission. Limited on-site registration will be available, space permitting.
Speakers include:
Christopher Stelly, Executive Group Director, Louisiana Entertainment & Digital Media
Trey Burvant, President, Louisiana Film & Entertainment Association
Carroll Morton, Director, Film New Orleans | Mayor's Office of Cultural Economy
Ed and Sue Poole, Hollywood on the Bayou, film accessory researchers
Linda Thurman, Hollywood veteran, author and Movie Poster Archives executive director
DeAnna Charett, Founder, Bad Habitz Organization veterans filmmaker training program
Reid Wick, Membership and Industry Relations, Recording Academy/GRAMMYs
Jay Weigel, Composer, producer and conductor
Greg Barnhill, Composer, songwriter and master vocalist
Donovan Williams, Chief Technology Officer, JammAround music collaboration platform
Veleka Gray, Master acting coach
Eric Lamulle, SAG actor
Kody Chamberlain, Writer and story artist
Hunter McHugh, CSA, Casting director, On the Hunt Casting
Dan Zweben, Location scout
Mickey Lambert, Location manager/scout
Roberta Carrow-Jackson, St. Tammany Film Commissioner, featuring Reel Scout
Dr. Ben Redwine, Classical and jazz musician and composer
For additional details and the complete schedule, visit https://NorthshoreCEC.org/ArtOfTheFilmExpo.
Art of the Film is presented by Northshore Cultural Economy Coalition and the City of Slidell.
Special thanks to our title sponsor, St. Tammany Tourist and Convention Commission, and all of our event sponsors, including St. Tammany Corporation, Northshore Media Group/WYLK 94.7 FM, Slidell Magazine, The Northshore Collaborative, New Orleans Entertainment Coalition and Louisiana Seafood Promotion & Marketing Board.
This event is supported by a grant from the Louisiana Division of the Arts, Office of Cultural Development, Department of Culture, Recreation and Tourism, in cooperation with the Louisiana State Arts Council, as administered by the St. Tammany Parish Commission on Cultural Affairs. Funding has also been provided by the National Endowment for the Arts.